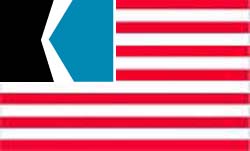 As I mentioned in comments on a thread yesterday, the Florida mailman who landed a gyrocopter at the US Capitol to draw attention to the corrupting influence of money in politics lives in the same media market I do and had informed a local paper of his plans prior to taking off. His stunt is therefore receiving more attention and in-depth coverage here than elsewhere.
The mailman is disappointed that the national corporate media outlets are focusing almost exclusively on the security vulnerabilities his flight revealed rather than the two-page campaign finance document he prepared for each congresscritter. The local outlets, having access to the mailman and greater interest due to the regional angle, are covering the campaign finance aspect. Not in sufficient depth, but at least they aren't ignoring it altogether. The mailman won't let them.
That's been interesting because Republicans and their paid shills have to address it now, and they tend to recoil from the topic like slugs confronted with a salt shaker. I suspect it's because they know people intuitively understand that fat cat donors expect ROI. So the party that benefits from wealthy donors the most tries to obfuscate the issue with conspiracy theories and lies.
Garden-variety wingnuts in the local paper comment sections are muttering darkly about the mailman's union ties. Paid GOP shills like Tampa Tribune columnist Tom Jackson just flat-out lie and hope no one notices:
For every couple of Koch brothers attempting to influence an election, there's an opposite and equal Tom Steyer and George Soros.
That claim is, of course, demonstrably false. The top 10 super PAC donors in 2012 (including one of the Koch brothers) contributed four times as much to Romney as they spent on Obama: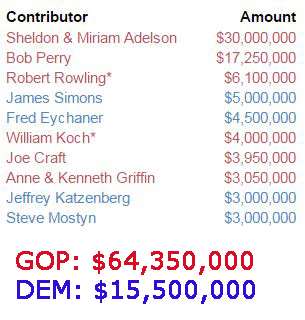 In overall contributions, unions and tens of thousands of small donors managed to balance and even tip the scales for Obama, which is why the Kochs back union-destroying candidates like Scott Walker and plan to devote even more of their inherited wealth toward buying elections in 2016. But does anyone really think that someone who contributes millions of dollars doesn't have exponentially more influence on policy than someone who kicks in $150? It is to laugh.
In the 2012 presidential race — the most expensive in history — the Obama campaign, the DNC and the Obama super PACs spent a total of $985.7M. The Koch brothers have announced that they plan to spend $889M in the 2016 election cycle.
That's two Americans, the Koch brothers, who are going to spend an amount approaching the entire sum spent by President Obama's successful 2012 reelection campaign.
The Florida mailman is upset for the right reasons. Cash is doing more to subvert our democracy than al Qaeda and ISIS combined and squared. But the cash-driven corporate media have little interest in exploring that aspect of the story, and they have a shiny object — security issues — to pursue instead. So the mailman's manifesto ended up in the dead letter file.
Maybe the simple fact that TWO PEOPLE are openly planning to spend damn near a billion dollars in a hostile takeover bid for the Oval Office can send that message more effectively than the mailman on his flying bicycle could. But I'm not optimistic.