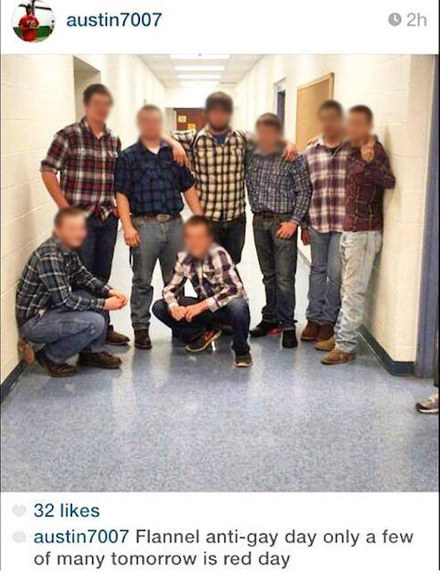 This is right down the road from me in the portion of PA that is frequently described as the Alabama portion of Pennsylvania when referring to the old quip that "Pennsylvania is Pittsburgh in the west, Philly in the east, and Alabama in the middle":
Students at a Pennsylvania high school held an "Anti-Gay Day" protest on Thursday, wearing coordinated flannel shirts, writing "anti-gay" on their hands, and sticking Bible verses on LGBT students' lockers.

"We came in to school on Thursday and found a lot of people wearing flannel and we couldn't figure out why," Zoe Johnson, a 16-year-old bisexual student at McGuffey High School in Claysville, told BuzzFeed News. "People started getting pushed and notes were left on people's lockers."

The anti-gay protest occurred a day after students with the school's Gay-Straight Alliance (GSA) held a "Day of Silence," an event aimed at drawing attention to anti-gay bullying.

"I got called a dyke, a faggot," Johnson said. "They were calling us every horrible name you can think of."
The best case scenario is that some adults came up with this shitty and awful idea, and not the kids themselves, because it would be truly awful to think that kids this young are bigots on their own. I drive down RT. 70 right near this several times a week.