One of the favorite things for wingnuts to do is to try the old "liberals are the real racist." Sometimes they fail, as this editor of wingnut magazine the Ricochet demonstrates.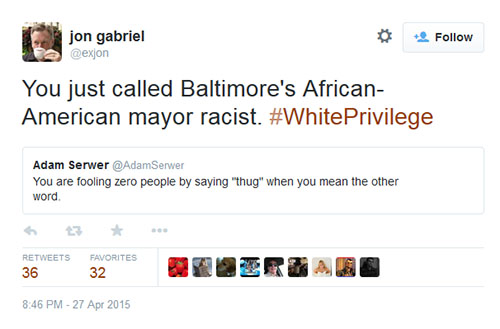 I'm black, genius https://t.co/BQdCudPrY6

— Adam Serwer (@AdamSerwer) April 28, 2015
The moron had to go back to December 2014 to find the Serwer quote to call him the real racist.
BTW- you should see some of the horrifying things that people are tweeting at Serwer, as he has retweeted a few of them. I knew black people have to deal with a lot of racism, but it wasn't until Angry Black Lady started posting here and I would have to go through the spam filter and find the sheer volume of bile that she had to deal with every single day.
If I had to deal with that shit every day, I would have lost my shit a long, long time ago. And we wouldn't be talking about minor stuff like an overturned police car.