Here are two lizards as seen through a frosted glass window at night: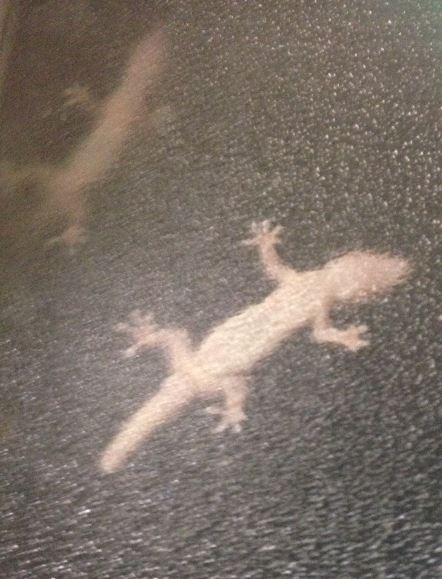 Must be a great bug-catching spot since the light will attract prey. It looks like one of the lizards is missing part of its tail. But it will grow back.
Open thread! And football rant below the fold, for those who are so inclined.
There's a lot of fallout in the Tampa Bay area resulting from the Tampa Bay Buccaneers' picking Jameis Winston #1 in the NFL draft yesterday. It's a controversial pick because as an FSU star, Winston had a fuckton of off-field issues, including a rape allegation.
Winston was also busted for stealing crab legs from Publix, a local supermarket chain — and major sponsor of the Tampa Bay Buccaneers. So what did Winston do on draft night, right after expressing profound gratitude for the opportunity and imploring people to give him a chance to prove what an awesome citizen he is?
He Instagrammed a picture of himself in a Bucs jersey and hat chowing down on crab legs. Someone advised him that might not go over so well, so he took it down.
Ah well. It's the Bucs. Of course they were going to fuck up their #1 pick. Winston's defenders (i.e., FSU fans) are all over the message boards making excuses for the photo, saying it was an innocent shout-out to the crab boat captain who supplied the crab legs.
But Winston isn't stupid. He got into Stanford before he chose a full-ride scholarship to FSU. He's not dumb, but he is a gridiron princeling who has been told all his life that he's more important than anyone else and entitled to anything he wants because he's good at tossing a ball.
He's not alone either. Given the way elite players are coddled, it's a wonder ALL of them aren't felonious pricks instead of only a third or so.
It's tough to be a liberal AND a football fan sometimes. There are the very real concerns about the long-term health effects of the game for players. That's horrifying, though it's true other sports ask players to take hideous risks too. What level of risk is too much?
Then there's the absurd financial shenanigans, player exploitation and grade-fixing schemes at the college level. And the ridiculous billionaire-benefiting shakedowns of the public at the pro level, plus the obscene salaries, etc. The league enables heinous behavior on a regular basis, and their policy enforcement is a joke.
Despite all of this, I've been a fan all my life, as were my parents and grandparents. When summer eases toward fall, I'm sure I'll feel that old excitement again — which of the shitty QB prospects will the Gators' new coach start? Which blue-chip recruits will pan out?
But this Winston pick, for some reason, despite all the other awful shit I've seen as a fan over the years and kept on watching, this feels like one straw too many. Maybe it's time to find something else to do with my fall and winter Sunday afternoons.