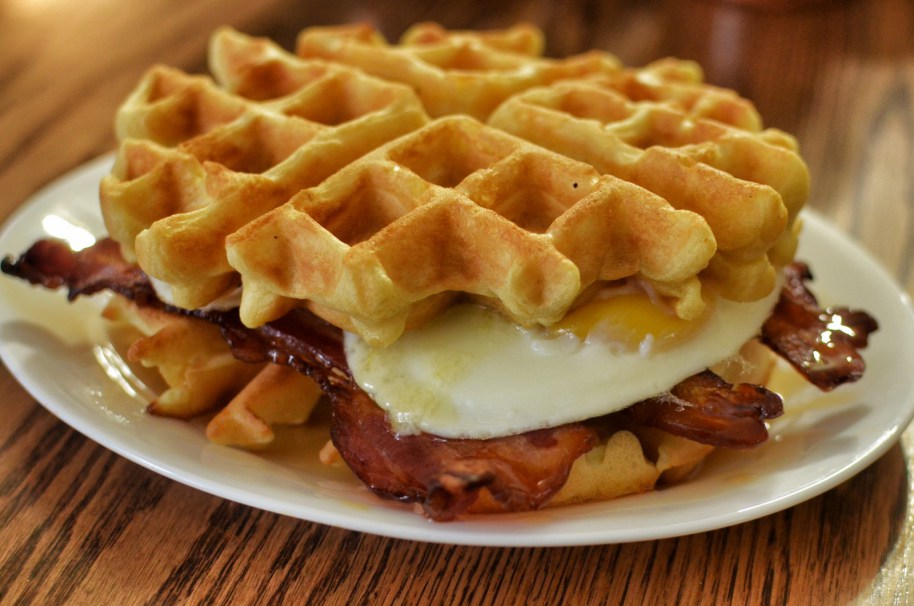 From our Food Goddess, TaMara:
When I was sick last month, I watched a lot of cooking shows while resting on the couch. One that caught my imagination was different things that can be made in a waffle iron. That spurred the idea for tonight's recipe exchange. Unexpected recipes for various cooking appliances.

First up, Biscuit Breakfast Sandwiches made in the waffle iron. Not as elegant as JeffreyW's delicious looking waffle, bacon and egg sandwich pictured above, but it's a quick- less than 10-minute – tasty breakfast. Click here for recipe and directions.

One of the best ideas I've heard in a long time is Grilling Pizza outside on the grill. Recipes and instruction here.

And finally, make a spinach lasagna in the slow-cooker that tastes like it was oven-baked, with this recipe for Slow-cooker Lasagna here.

What's on your plate this weekend? Anyone else have unusual recipes for kitchen gadgets? Anyone harvesting from their garden yet? It's just about time for my favorites here, peas and new potatoes, along with lettuce, spinach and asparagus.

Tonight's featured recipe solved my biggest issue with hash browns, how to make them easy, quick and crisp. The waffle iron was the unexpected answer.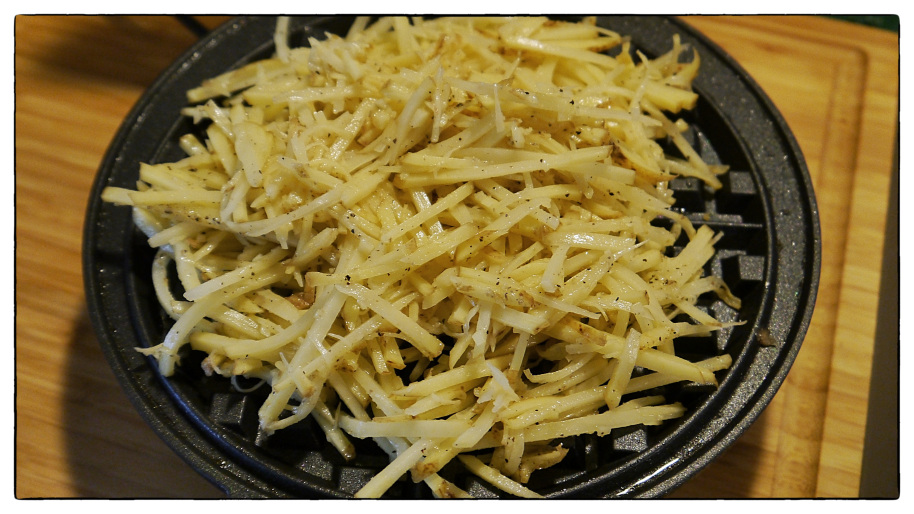 It's so easy. The best part is, there is no need to wring the water from the shredded potatoes, my least favorite step of making hash browns. It's messy, but without that, skillet fried hash browns never crisp up properly, even with my cast iron press.

The waffle iron to the rescue. Mine is 7 inches across and enough for one potato, but it's so fast, it was easy to make enough for everyone. I just put the finished ones in the oven to stay warm.

I shredded the potato and lightly patted the shreds with a paper towel, I mixed in a little olive oil, salt, pepper, shredded onion and garlic powder. I brushed oil on both plates and pre-heated the iron, mine has temp settings, so I put it on the highest setting. I spread the shredded potato thinly over the iron, closed the lid tight and let cook for 2 minutes, checked on them, then removed when they were crisp enough. Over the four potatoes I made, the longest time was 4:30 minutes, shortest time was a little less than 3 minutes.

It was so easy and the cleanup was basically wiping out the waffle iron with a paper towel. The next time I do it, I think I'll add some shredded green or red pepper. It's definitely a good way to put my waffle iron to use.

That's it for this week. No Bixby update, although he learned how to use a drinking fountain yesterday. Pretty damn cute. I'll try to get video for next week. Hope you have a good weekend – TaMara