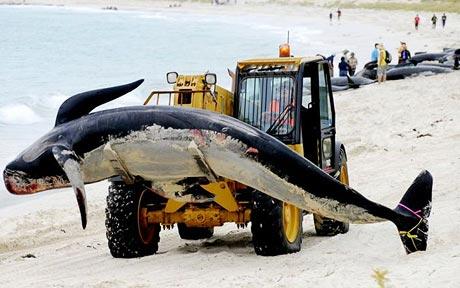 Endtimes for the Outlaw Jersey Whale (ht: TBOGG):
Mr. Christie, the governor of New Jersey, consulted with advisers, adjusted his jet-black suit and gamely walked onto a stage before 300 guests eating yogurt parfait and almond croissants. He recited statistics about Social Security and Medicare costs and projected the air of a man thoroughly unbothered by the swirling legal drama back in New Jersey, which he left unmentioned.

But behind the scenes, his aides, his allies and even his wife were mobilizing, working the phones and blasting out memos to supporters, trying to hold on to whatever chance Mr. Christie had to make a run at the presidency, according to interviews.

Over the next few hours, Mary Pat Christie called donors, trying to offer reassurance that everything was still on track and encouraging them to read her husband's speech on overhauling the federal entitlement system.

Mr. Christie himself, joined by top aides, reached out to longtime financial supporters, like the billionaires Kenneth Langone and Stanley Druckenmiller, to talk through what he saw as the limited scope of the indictment.

And Mr. Christie's political action committee emailed talking points for loyal backers to deliver to the news media, framing the guilty plea of David Wildstein, a former Christie ally, and the indictment of the governor's former deputy chief of staff, Bridget Anne Kelly, and his appointee, Bill Baroni, as a moment of vindication.

"Key messages," the talking points read. "Today's announcement reinforces what the governor has said since Day 1." Mr. Christie, they said, "had no knowledge or involvement in the planning, motivation, authorization or execution of the decision to realign lanes on the George Washington Bridge."

In call after call, they squeezed whatever optimism they could from an ugly day, calling the legal charges the "best possible outcome in a bad situation."

But amid the bustle, there was an absorption of a new reality for the governor and those closest to him: that his bid for the White House seems increasingly far-fetched. A political team long characterized by its self-assuredness now sounds strikingly subdued, sobered and, realistic about his odds.

In two dozen interviews over the past 24 hours, many of the most trusted allies and advisers to Mr. Christie acknowledged that winning the Republican nomination required a domino-like series of stumbles from his rivals and an unlikely breakthrough for him.

They used gentle descriptions like "in a different place" to describe how Mr. Christie had fallen from the high of his re-election in 2013: unpopular at home, limping near the bottom in national Republican polls and lacking the money and momentum of his competitors.
I was always worried about Christie, because he could pass himself off as not crazy, unlike the rest of the GOP. Fortunately, his hubris and petty bully boy act wasn't just something he did for show, it was his defining characteristic. In 2017, Chris Christie will be known as that asshole crooked former Governor of New Jersey, not Mr. President, and that is a good thing.