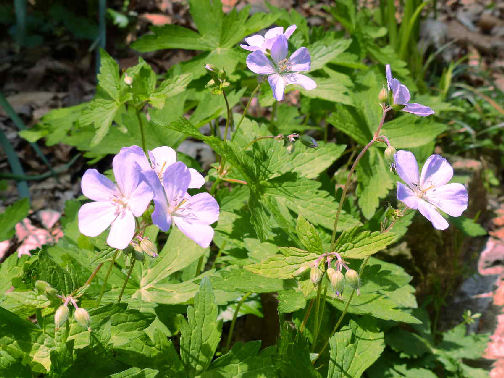 Not our bloghost, but faithful Garden Chat correspondent JR in WV:
I've been a little busy, rehab for my titanium shoulder, spring busting out suddenly after a long cold winter.

But I have been sneaking outside with the camera, and have finally made time to sit down and select and edit a few wildflower and planted/encouraged flower photos.

At the top: Wild Geranium – these volunteer all around the rocks and forest floor, and often come up right around others we have moved or planted, and create wonderful contrasts between their pale pink flowers and the ajuga, for example. They bloom again and again for 2 or 3 weeks, but any given flower only lasts a day or two.


Dancing Frogs – Mrs J picked these up somewhere. They are near the frog pond, set on top of a big flat boulder with anemones and wild geranium. The pond is 8×12 feet at most, and we have several waves of frogs mating and reproducing in it, along with several species of salamander and newt. You can ID the frogs by their call, the wood frogs and peepers first, then the chorus frogs (just now ending, there was one lonely frog last night). There is often a lone bullfrog, I was interested to learn that bullfrog tadpoles can take 2 or 3 years to morph into a frog! The salamanders are from the size of your little finger up to the size of a big plantain banana. Tiger Salamanders, with a very dark body and pale yellow or off-white cream spots. They live underground mostly, and only need a pond to reproduce.


White Helleboros – this is also known as Lenten Rose, as they bloom early in the spring. We planted these suckers and they were supposed to be fragile and solitary, but now they're all over the place. We'll be using weed-killer on them if we can't slow them down any other way. They will choke the wild flowers out given half a chance. But they are green and blooming while the snows of February are blowing around them, so not all bad at all.


Mossy rocks and Happy dog – that's her name and her condition, she is always happy as long as she's in her place with us and her woods. These rocks are above our parking place just south of the house and the steps up to the front door. Mrs J keeps the weeds and leaves off the moss so it stands out. In a rainy spell the green glows like fairy velvet. It's a lot of work keeping the honeysuckle and other invasives from choking the native wildflowers out, and she makes it her spring and summer duty to pull out choking vines to save trees and bushes. Another new invasive is Autumn Olive, which has been introduced as a reclamation cover on "reclaimed" strip mines. From which it spreads everywhere!


Redbud Blooming – These bushes grow up into small trees eventually, and are the first color to show up in spring, There are a few white blooming trees that can compete for first flowers, Sarviceberry and sometimes Dogwood, but usually they start as the redbud are winding up. Things are a little less consistent lately, don't know why!!!?


White Trillium and a tiny Jack-in-the-Pulpit – We planted these native wildflowers as tiny roots, they came in plastic bags with a pinch of peat moss, and most of them came up the next spring a year later. The tiny plant on the right of the picture is two leaves of the Jack, with a little cone-shaped pulpit on their right, and Jack will show up in that little covered pulpit. We have another plant that blooms like Jack, called Aron, and they are green all winter. Both of them go to seed with an pod covered with bright red seeds in the fall. Jack won't show up until spring, but Aron come back up as soon as the seeds fall from the plant. Birds love them, and spread both of these plants around the forest.


Red Trillium – This is a singleton, a beautiful example. These are also native, and we have planted them as roots, and they have taken off and spread fast. Behind this trillium is a volunteer hellebores, which I intend to do away with to protect the trillium…
More WV pics next Sunday!
***********
Things are getting busy here north of Boston — May Day, and suddenly the temps are going from 40F nights / 50F days to 60F nights / 80F days predicted this week! Spent yesterday afternoon buying more annuals ('Sonata' cosmos, morning glories, lots of allysum to go with the pansies & lobelia already waiting) and some new planters for them. Haven't yet seen any of our own wild geraniums — the local 'volunteers' have bright fuchsia flowers, but mostly I encourage them for their lovely, airy foliage — but I've learned not to give up on plants reviving until after Memorial Day. I'm also missing the local purple catmint variant, which is usually so prolific as to approach the pestiferous, but most years it blooms by the end of February and the bumblebees appreciate that, so I always leave some patches for them. The Spousal Unit's beloved vinca (creeping periwinkle) is in magnificent violet-blue bloom, though!
Been looking at heirloom & miniature rose websites all week, contemplating whether I can hide root-pouched plants inside planters, make it easier to get the poor things under cover before another winter comes along. (The established Zepherine Drouhans and one of the two Don Juans in the warmest spot next to the front door survived, as did the Jeanne LaJoie mini in the front raised bed and the New Dawn climber in a root pouch tucked into the stoop, but the rest of last year's 'winter hardy' purchases don't seem to have made it even with protection.)
What's going on in your gardens this week?