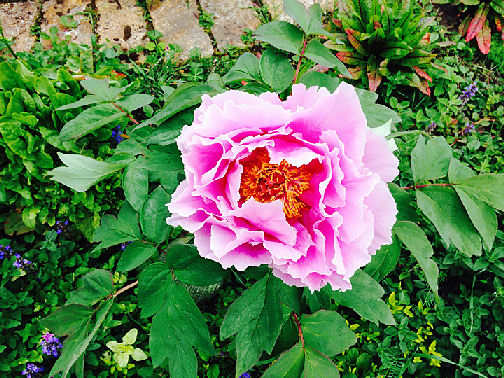 Bonus garden pic, courtesy of faithful correspondent Marvel:
Just wanted to share a snapshot of our wood peony — this critter sat around with an unopened blossom for three weeks. The regular peonies are starting to bud-up like crazy, but the woody one…well, it only had one bud and it was lovely & all, but c'mon!

FINALLY, it bloomed yesterday. It's gigantic — the petals are like lovely, fluttery pink hankies.
***********
Today's Google Doodle celebrates the birthday of Bartolomeo Cristofori, the man who invented the "piano-forte" (soft-loud) harpsichord ("gravicembalo col piano e forte"). Trust Google to be infatuated with technological innovation! (/smile)
***********
And Big Bird's — well, Carroll Spinney's — autobiographical documentary is opening on Wednesday.
Throughout his 46 years playing Big Bird on "Sesame Street," Caroll Spinney has always stood apart from the show's other puppeteers.

For one thing, the full-body costume means he can't easily interact with cast members. For another, it means he can cry without anyone noticing.

Those tears — as well as plenty of smiles — are explored in the new documentary "I Am Big Bird," opening Wednesday at the IFC Center. Fans will see how Spinney, now 81, evolved from being a kid bullied for playing with dolls to developing Big Bird and Oscar the Grouch when "Sesame Street" debuted in 1969. It's a bittersweet ode that's also the love story of Spinney and his second wife Debra, who met on the show…

Spinney and the president of the United States share a distant great-grandfather, Josiah Cook, making them ninth cousins, twice removed. The puppeteer got the news via a cousin who had a genealogist trace the family's history.

"He gave me a whole family tree that proves it," Spinney tells The Post. When Michelle Obama came to "Sesame Street" for an appearance, she said to Spinney: 'Well, cousin, at last we meet.'"…
***********
Apart from daydream believing, what's on the agenda as we start another week?