Despite all my rage, this (flying) rat still wants to be in a cage: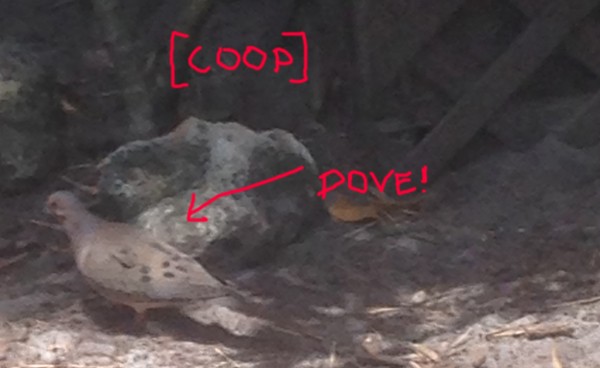 Yep, that's the self-same collared dove I rescued this morning from its two-day confinement in my chicken coop. I recognize the spots on its wing and an odd tuft of feathers on its back.
This morning, that dove cost me precious workday time as I attempted to free it, including time spent jumping around in the coop waving my arms and then rummaging through the shed to find a long-handled net to make my shooing actions more effective.
Plus it cost me nearly a whole head of lettuce, which was required to lure the hens back into their coop once I finally got the stupid dove out.
And now it is strolling around the coop, cooing disconsolately like it misses its chicken friends and wants back in. I give up. If it goes back in when the chickens are having their evening free-range time, it's on its own. Stupid dove!
What are you up to this evening? Any troublesome animals in your life?