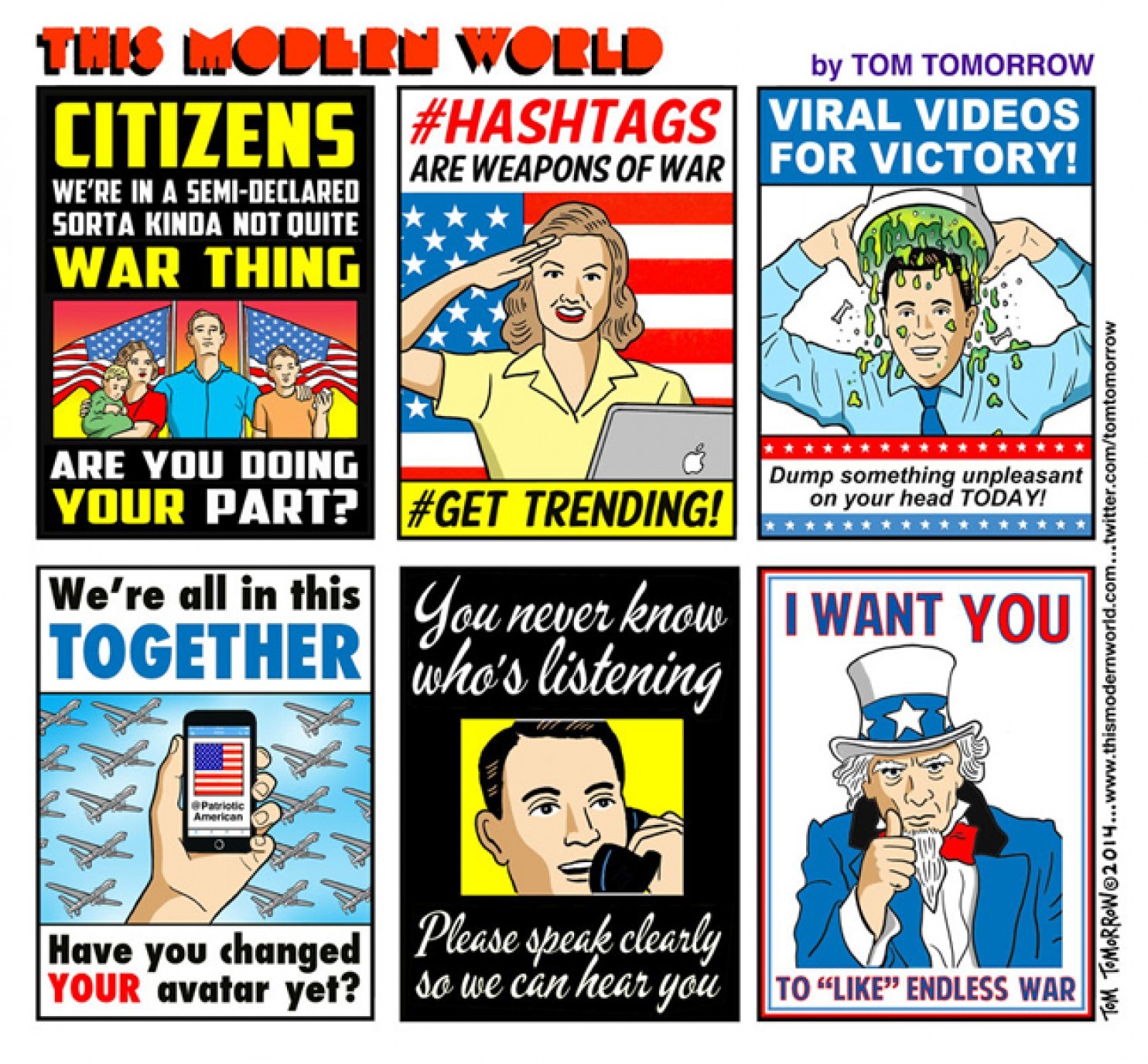 Dan Perkins, aka "Tom Tomorrow", got nominated for a Pulitizer this year. He didn't win, but as the Washington Post's Michael Cavna explains, just getting the nom is a BFD:
… Since cartooning finalists began being named in 1980, the list of non-staff and/or alternative artists has included Feiffer, Trudeau, Henry Payne (Scripps Howard News Service), "For Better or for Worse" creator Lynn Johnston (Universal Press Syndicate). Ted Rall (Chronicle Features), "Funky Winkerbean" creator Tom Batiuk (King Features) and Matt Bors (Universal Uclick).

All of which makes Perkins perhaps the Prize's biggest outlier since Feiffer in the '80s. Perkins, who is self-syndicated, entered cartoons that were published on the Daily Kos, which, as the cartoonist himself notes, "is a blog." (His work also appears on The Nation.)

"I've been doing this for 25 years," says Perkins, who launched "This Modern World" in the early '90s, "and certainly for 20 of those years, I was not realistically eligible, because I was an [alternative] outlier."

Not only did Perkins's work appear mostly in alt-weekly papers most of those years, but his format is as a text-heavy, multi-panel feature — far from the single-image format that the Pulitzer jurors generally favor…
***********
Also should've mentioned this earlier, but *mumblemumble*stuff*mumble*… From longtime commentor a hip hop artist from Idaho (fka Bella Q):
I'm still fundraising for Mental Health Awareness Month. I've set up the Team Bella Q page for the May 9 NAMI SW Ohio walk. It's a good cause, and I hope people can help support it, to the extent budgets permit. Donations can be made both anonymously and without an amount displayed. The team message is:

Team Bella Q includes people from all over the internet and the 3D world, each of whom cares about someone who lives with a medical illness known as mental illness.
NAMI offers all its programs at no cost to the participants. Team Bella Q hopes you will join us to raise money for NAMI Southwest OH. Donating is easy, fast, secure, and may be done anonymously.

You may join the team without a donation, and you can do so with your nym from here! Full disclosure: NAMI will require an email address, and will send you emails, but you can unsubscribe from their list pretty easily. In addition, I will not have access to your email address, as NAMI does not disclose them to team captains, though I will thank you through the site from the form there. Thank you to all members of the Juicetariat who've already donated.
***********
And faithful commentor WaterGirl asked if I could front-page Al Giordano's Kickstarter:
The Field: Narco News as You Know it Could End in 15 Days
… If I'm going to keep being honest with you I have to tell you that I am worried about the future of Narco News and the school, especially if you, the readers, don't get us to our $25,000 goal by May 19 to make a 2015 School of Authentic Journalism possible.

The school is the crown jewel of this project. It's what draws and brings new talent to the work of authentic journalism, and provides for the intensive training of the next generations of those who will carry on this work.

It's not enough for grizzled veterans of investigative journalism like Bill Conroy and I to keep reporting until we no longer can. That's how too many good journalists and too much good journalism faded out of society in the first place. You've probably noticed that experienced journalists too often become more isolated and alienated as years go by until they've painted themselves into a dark and cynical corner, and readers stop responding to their work…

… [I]f there is no School of Authentic Journalism this year, I'm worried for the future of this project, and not just because we want and need the fresh energy and talent of the next generation of authentic journalists, although that in itself is a big thing. The consequences would include that there will have to be changes in what we can do with Narco News itself…
My highlight, because I think we can all recognize that syndrome. Kickstarter link, again, is here.
***********
Apart from the Red Queen's race, what's on the agenda for the day?