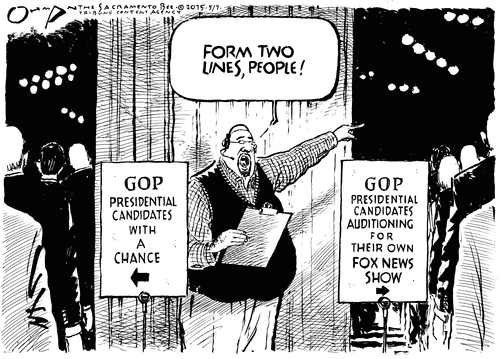 John Cassidy, economics reporter for the New Yorker:
… Nobody should be expected, or forced, to keep up with every detail of the G.O.P. primary, especially when, Lord help us, we still have more than eight months to go until the Iowa caucuses. At this stage, the important thing to remember is that there are really two spectacles taking place: a high-stakes horse race for the Republican nomination, and a circus held on the infield of the track. Although the events run concurrently, and are ostensibly geared toward the same end, they shouldn't be confused with one another. One is a serious political contest. The other is a sideshow, designed to amuse the spectators, give the media something to cover, and further the ambitions, varied as they are, of the participants…
From the link, John Wolfson at the New Yorker, on "Running for President to Build Your Brand":
… The 2016 G.O.P. field is bursting with candidates who have practically no chance of victory. Sabato's influential Crystal Ball report, which tracks political races across the country, currently counts nineteen potential candidates for the Republican Presidential nomination. Twelve of them have no shot at winning, Sabato said, adding, "and I'm being generous to some of the other seven." (His generosity does not extend to a perennially rumored candidate whose name is absent from the list. "We couldn't include Donald Trump and live with ourselves," he said.)…

Why are so many experienced people lining up for a race that they cannot possibly win?…

For a number of the candidates… the chances of actually securing the nomination don't appear to factor into the decision to run. It is now so easy and so lucrative to mount a campaign for President that, even given the current historically crowded field, it's a wonder that still more people aren't running. "The primary process is a spectacle now, and that's a relatively new development," Sean McKinley, a Ph.D. student in the politics department at Brandeis University who researches the rewards of unsuccessful campaigns for President, said. "There are increased incentives for people to run, and there are fewer downsides, so why wouldn't you run?"

McKinley researched Presidential races between 1976 and 2008, and found that losing candidates benefitted enormously simply from having run. Senators who had only narrowly won earlier elections suddenly found themselves retaining their seats by comfortable margins, despite not having shown well in the Presidential race…

Participating in the public-speaking circuit has emerged as an especially profitable side benefit of running for President… For many similar candidates, McKinley said, "the only thing they really had on their C.V. was that they had run for President. So if you're a politician reaching the end of your career, and maybe you haven't earned as much as you could have in another field, maybe you consider running for President to raise your profile for the speaking tours."…

"Campaign finance is going to continue to change the shape of politics, as people realize how permissive the laws are," McKinley said. He expects that we'll see even more candidates running in future elections. "There are very few rules left. You may have to solicit money from only a couple dozen people."…
Apart from the neverending grift, what's on the agenda for the evening?