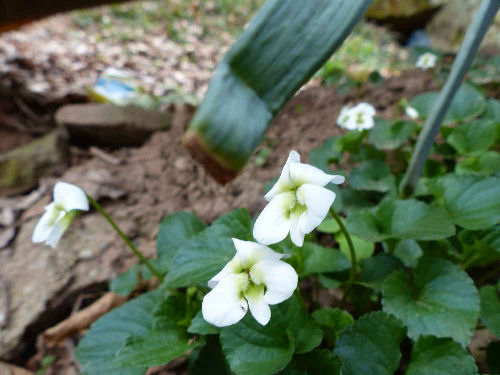 Faithful Garden Chat correspondent JR in WV, again:
Above, White Violets. These are native wildflowers, I moved them nearer to the house with a shovel full of forest floor for each tiny plant, and they're doing great.

We have lived on our farm, which is really just a big wood lot, since the late 1970s, and we built the house we live in (with a little help from our friends) in the early 90s, moving in March of 1994. So there have been a lot of summers for us to garden. Of course the first several years I was finishing up things around the house, which still aren't done. Anyone who has ever built anything will know what I mean there! ;-)

Mostly Mrs J. has done the removal of the invasives, like honeysuckle, poison ivy, grape vines, etc; and yes I know those last two aren't invasive, just hard on other plants and people like Mrs J. That work is what allowed many of these native plants to stage a big come back. We have together planted perennials and I have moved native plants at her suggestion.

She also grooms the moss and sedum on the boulders. The foundation of the house is at one point just inches from the rock wall on the west side of the excavation, we were lucky there. Living in the Appalachian Woods is really nice, like being at a state park all the time, only I have to plow the road and fill the potholes, and deal with the won't-flush toilet, instead of the Park Staff. The plants, mostly, will get by on their own once they get a good start.

I didn't send a picture of the ramp beds, they aren't really flashy, just green leaves looking somewhat like lillies of the valley. I buy them from road-side vendors who dig them in the deep woods. We eat some, and plant 50 or 60% on the hillside, as they were harvested out around here a long time ago. But in a few more seasons we will have beds we can harvest a few from for special spring dinners.

Blowing Winds god – after Greek or pagan deities, this guy faces NE and blows the winds in their natural direction. There are patches of ramps around the boulder he sits on. IIRC a gift from a friend.

Bluebells up close – these were planted, just 6 little pots IIRC, but now there are 4 big patches with dozens of them around the step to a foot bridge across the tiny creek. Spring rains create noisy waterfalls all over the "backyard" sometimes, it will rush while it's raining, and slowly dwindle after the front passes to the NE.

Anemones and fiddle-heads – these are both native, the tiny pointed flowers are all over the forest floor in a good spring, and of course the fiddle-heads are native ferns not yet uncoiled. These aren't the more famous ferns from Maine and New England, I don't know if they would be good to eat like New England fiddle-heads, but the ferns are so pretty I don't think I would pick them if they were good.

Hydrangea and deer – The dogs brought the deer skull home after hunting season years ago, and we thought to use it on the trellis for this climbing hydrangea, which is supposed to bloom like all of them, big snowballs of tiny blooms, but it has never bloomed a bit, ever. But it is pretty greenery and in a few more days the deer will be as hard to see as his living relatives.

Ajuga and may apples – this is a ground cover we introduced elsewhere. It's gone from where we planted it, but showed up on this steep hillside above the tiny frog pond. Of course the may apples are native. We never get any of the tiny apples, the forest critters take them first. I'm told they can make a nice jelly or jam, but have never seen any for sale.

Spring Beauty – these are short little stalks with a ton of little white flowers at their top, and they're all over the place in a good spring. Native wildflowers, they grow all over the east from Canada south, and bloom from April to May as you go south.

Fish sculpture climbing a mossy rock – this is really just a big rock covered with moss, and the occasional wild flower, sedum and wild geraniums mostly. But the copper fish fighting its way up the moss is cute. A gift from friends in the neighborhood.

Violet violets – another native, these just happen, more common than the white ones, just growing where ever they feel at home.

All of these pictures have been taken in the last couple of weeks, in April I'm pretty sure. I'm inclined to pick the camera up and roam around the place near the house when it isn't too awful out, so I suppose some could be from March, although I wasn't really active much yet then.
***********
Here north of Boston, I'm in the annual BIG PLANS gardening stage… knee deep in new purchases & unfinished projects. Filled five planters with purple blue & white pansies, shades-of-blue lobelia, and white allysum, but the dark-blue generic Siberian irises they usually complement are just starting to bud up, a few weeks behind schedule. Still have a hanging basket and some other planters to fill, so Saturday we went to Volante Farms for more lobelia… and ice cream… and the Spousal Unit picked out a couple tomato plants for me to take care of, a Vintage Wine (which I've grown before, and he loved them) and a Black Sea Man (sounds like a middle-school joke, but the tag promised 'great slicer' and that's how he likes his fresh tomatoes the best).
And our lilacs are starting to bloom! — again, a little bit behind schedule, since in recent years they've been rather past their peak by Mother's Day. But the heady scent from the heavy panicles makes it much easier to get out and rake or dig…
What's going on in your gardens this week?