Today is Bike to Work Day, part of Bicycle Week and Bicycle Month (at least in my town), so I'm commemorating it with an ode to perhaps the most over-touted dab of street paint this side of something Banksy spritzed on a random wall.

Biking to work has become quite popular in the last few years. Lots of cool bikes are being built for commuting or urban transport. Boutique and big-name clothing companies are making clothes to absorb the sweat and coddle the genitals of bike commuters. It's all about riding your bike to work, until you actually get out on the road. Then, you'll probably encounter this odious little bastard: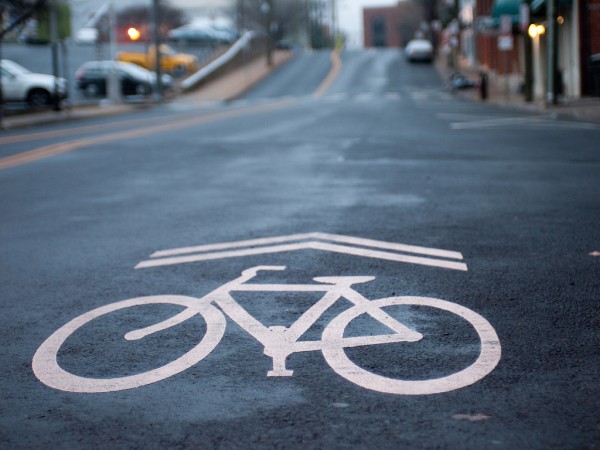 That, of course, is Sharrow. He (and, yes, I'm gendering the fucker–he's the absentee dad of road signage) is a symbol painted on roads so that your town or city government can claim to be "bike friendly". Sharrow is everywhere, and though he may seem like a biker's friend, those of us who ride our bikes to work have been around long enough to know that this fucker ain't your buddy, for a number of potentially life-altering reasons.
First and foremost, he's fickle. When the road is wide and a bicyclist can share the road easily, Sharrow or not, then Sharrow is your boon companion, helping you occupy a nice wide part of the road and soaking up the Spring sunshine. But as soon as the going gets tough—generally near an intersection–your new Sharrow bro is nowhere to be found. But don't think that Sharrow has just fucked off to go have a beer or take a nap. He's sent his woo-woo friend, the "Hope is a Strategy" sign, to protect you: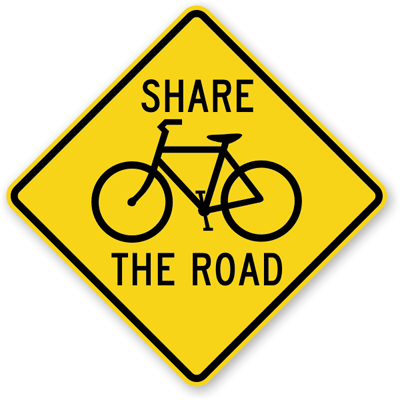 Once the tight spot is past, Hope is a Strategy goes back to shitting rainbows and bathing in glitter, and Sharrow is your pale, reflective buddy again, assuming you've survived the intersection without his help.
Aside from the fair-weather nature of his friendship, another problem with Sharrow is that he only appears on roads that are at best marginally suited for your bike. If a road is just a bit wider than a Sharrow-worthy strip, Sharrow's big brother, "Let's Pretend Bike Lane" (or LP as his frat bros call him), takes over. When LP isn't sitting on the couch hitting his bong and playing Call of Duty, he looks like this: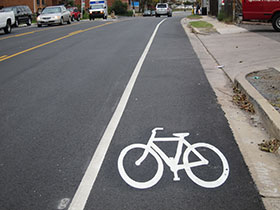 LP is a little more paint-intensive than his younger sharrow bro, but he's just as fickle, pulling the fade-away at every intersection. And while pulling out may be a good thing in the real word (especially for stoner frat bros), it leaves bike commuters in the lurch at the busiest intersections.
My point, in case it isn't bloody obvious yet, is that a little paint and a few lines are not a bike infrastructure. I understand why bike-promoting organizations give out "bronze awards" to cities that throw down some paint and a few signs–they're trying a little carrot along with the stick. And, to be fair, my city also has been expanding their bike paths. But if you're bronze, shouldn't you at least have one of these: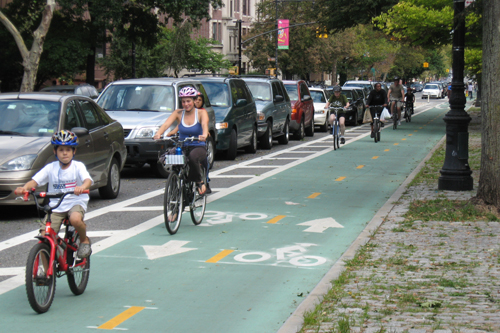 That's a real bike lane, what Sharrow and Let's Pretend hope to be when they grow up. It's separate from traffic and doesn't dry up and blow away at the first intersection. It costs money. It irritates drivers who are going to blame congestion on it. It takes a bit of political courage to advocate it. In short, it has the most important thing that slapping down a few Sharrows and Let's Pretends lacks: a real commitment to people using bikes as transport in your city.
(photo credit for the sharrow pic: [email protected])