I'm stealing a chart from Charles Gaba about the rate increases in Michigan as he helpfully included the number of people covered by each insurer.  I've modified the chart a lit by adding some highlights.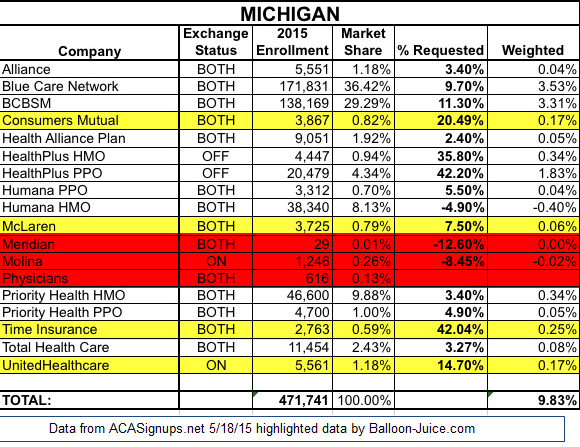 Administrative costs of a health insurer are made up of both variable costs that change depending on membership size, and fixed costs. Some of the fixed costs are regulatory compliance costs such as putting together the yearly provider filing for the state, or external credentialling entity audits as well as the creating the back-end plumbing for a system. Some costs are directly related to membership totals such as the cost of creating ID cards, and fixed costs per claim to pay and send out the appropriate explanation of benefits and payments to members and providers respectively. Most insurers need someone in my previous position if they have ten members or a million members. My current position is a mostly fixed cost position once an insurer passes a size/complexity threshold. People who are in claims or customer service are in variable cost jobs.
The insurers in Red are insurers whose membership base is way too low to cover their fixed infrastructure costs at Exchange rates.  Meridian has 29 members for a home host/provider owned insurer.  Their rates are reasonable ($296 for a Silver policy for a 35 year old non-smoker).  Assuming their average member is 45 years old, their Silver plan is bringing in $10,150/month.  An 80% MER means their administrative allowance is $2,030 per month.  That is enough to pay for one customer service rep and outsourcing claims payment to a third party vendor.  Every other administrative expense is a cash flow loss.  Molina and Physicians also have a very low membership base to cover their administrative costs.
This could be okay if the three insurers have a long term plan where the goal was to have 2014/2015 work as beta-test years.  Meridian could be an effort by a small hospital chain to keep costs in-house, and if they are using Meridian to self-insurer their own members, the marginal cost of expanding their services to the Exchange could be a worthwhile gamble for a few years.
The providers highlighted in yellow are more viable, but again, those member counts are low for self-sustaining operations as the administrative costs are high and the risk pools are very shallow in case there is either one or two big diseases or a really nasty auto accident with four or five members unexpectedly hitting a trauma center and rehab facility for six months.
I think we'll see a lot of insurers hang on for 2016 to get a full data set and appreciation of the PPACA individual and small group universe, but we'll see several insurers leave in 2017 if they can't find the members to cover their administrative costs.