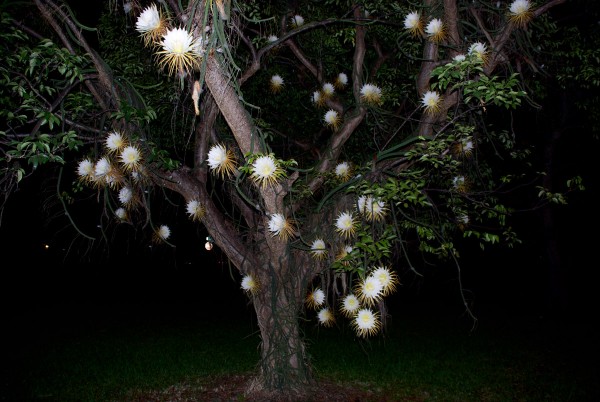 From valued garden commentor Stan of the Sawgrass:
Ellen and I decided to actually WALK to the grocery store yesterday, and I pointed out some night-blooming Cereus pods that were about to bloom. They have a weird, alien pod-people look before they open.

I forgot about it until about midnight, when curiosity got the better of me, so I grabbed my camera and headed over, just in case there was a bloom I could get a picture of.

And, just… wow:

I ran back to get Ellen, so that she could see them, too. The blooms are enormous– about the size of a child's head.

The blooms were all kind of aimed at a nearby streetlight— I think it would have been the full moon in a natural setting. I thought about going back this morning, for an "after" pic, but it would just be sad. The blooms all die and collapse into a limp, dead thing. One night only, no encores…

Dragon fruit come from a different variety of this cactus. I saw a farm out in Homestead with some kind of Cereus growing on frames, but I've never seen Dragon fruit in any of the fruit stands or farmer's markets out there.

Personally, I've never seen any of the flowers do anything but look swell, then wilt and drop off the next day. I might get a brush and try to hand-pollinate one out of curiosity, but unfortunately I suffer from Dragon-ass.

And then of course, since this is for Balloon Juice, this is our new rescue kitten Max:

A friend of Ellen's found him hiding by the engine in her car. I think he may have come from a colony of ferals that lives by her temple, but that means that he took a ride of a mile or so right by the engine. Marilyn said, "it's either you, or the humane society." We agonized, but we were down to one cat since 8-Ball's recent death. He hid for a day, but having an adult cat around helped, and he bonded with us pretty quickly.

Another flea bath is in his immediate future, but he's blissfully unaware. Can't wait till he's big enough for Advantage, because washing him in Dawn is getting tiresome for us both.