Those of us of a certain age can only marvel at this photograph: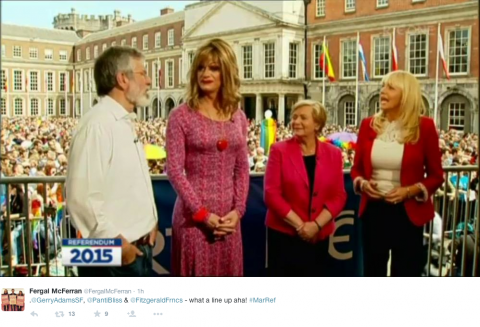 There you have what was for a generation the face of the IRA — with all of its connections to Catholic Irish history — next to Panti Bliss, aka Rory O'Neill, who serves, semi-accidentally, as a leading voice for Irish marriage equality and sex/gender equal rights — who stands next to Frances Fitzgerald, the Irish Republic's Minister for Justice and Equality*.  To say this is not a juxtaposition that someone watching Irish politics in, say the 80s, would have been able to imagine is to understatement as Velveeta is to food.
All of which is to open up a thread to celebrate a real victory:  Ireland's Yes vote on its same-sex marriage referendum.  It was barely more than two decades ago that Ireland decriminalized homosexuality.  Now this.  The arc of history bends towards justice…
I've no Irish descent in me anywhere; so let me just say thanks to those who voted in favor for making a huge public statement — and a vital contribution to the cause of human dignity.
Next up, there, crucially, and more and more every day here:  the rights of women to control their own reproductive lives.
Over to you.
*Now there's a cabinet title I endorse!
Update:  via the Guardian, this from Diarmuid Martin, archibishop of Dublin:
"This is a social revolution," he told RTE Television. "The church has a huge task in front of it get its message across to young people … The church needs to do a reality check."

Asked if the church was ill-equipped to deal with these issues, he said: "We tend to think of black and white but most of us live our lives in grey." The church needed to use the result to harness the energy that has been unleashed in favour of equality for all, the archbishop added.
If the Catholic Church continues along lines suggested here by Martin and in a number of ways by the current Pope, this seems to this Jewish atheist to be an unequivocally good thing.
Update 2:  And the final numbers are in.
Yes:  1,201,607 — 62.07%
No:    734,300 — 37.93%