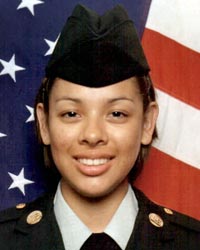 Karina Lau would be slightly over 30 years old now. No telling what she would have made of her life, but by all accounts, she was a bright and talented young woman.
She never made it to 21; Pfc. Lau was killed at age 20 when the Chinook helicopter she was riding in was shot down by Iraqi insurgents near Fallujah in 2003. She left grieving parents behind:
"We tried to stop her from going into the Army," Ruth Lau said, leading the way into her daughter's room, which is kept locked. The Laus say they will never change anything in the room, painted in their daughter's favorite color, lavender.

Karina was the daughter they'd always wanted, full of joy, warmth, discipline, talent — and more than a modicum of independence. The Laus kept every report card, every class photo, every silly memento, even the "Missing Tooth Award" given to their daughter when she was 5 to mark "A special day because Karina lost a tooth!" They watched their daughter graduate with honors and sing "The Star-Spangled Banner." She played a dozen or more instruments, including the clarinet and saxophone. Since her death, teachers and students at Livingston High have raised nearly $25,000 for a Karina Lau music scholarship fund.

The daughter of Chinese and Mexican immigrants would have been the first in the family to graduate from a four-year university.

"I would tell other parents who have children who want to go into the military — in my opinion — don't let them go," Ruth Lau said. "Do everything you can to stop them."

Her husband added, "They are too young, 18, 19 years old, inexperienced, still just babies."
Years later, Pfc.Lau's parents continued to keep her room as it was when she left it. Open thread.