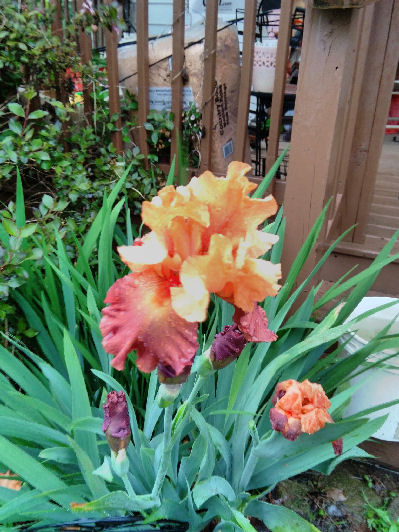 From faithful commentor Satby:
My Iris are blooming but with the rain we've been having they aren't lasting very long. I was taking these in the rain today just so I could enjoy looking at them better before they're gone.

I'm actually a lazy gardener, so I prefer perennials and things I plant once and then just keep up. After I started to branch out from spring bulbs, bearded iris became my next favorite plants. The variety is amazing, and though the rhizomes can be costly, they multiply. These are mid-season bloomers, and a couple are reblooming, so I'll have flowers on them again in the fall.
***********
Here in New England, I've got two dozen mail-order tomato seedlings waiting and I need to go buy many more bags of potting soil. And while I did get all the annuals safely into the flower beds & planters, I never found the time / energy to finish digging out the weedy mess at the end of my tomato row (driveway extension), so after I've finished rootpouching out all the new seedlings I have no idea where I'll put them…
How are things in your gardens this week?