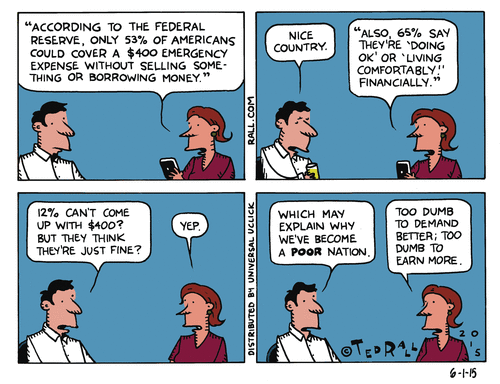 Some excellent advice from Stephen M. Walt, in Foreign Policy — "Chill Out, America":
These days, prominent experts and politicians seem determined to keep the American people in a perpetual state of trembling fear. Richard Haass of the Council on Foreign Relations thinks "the question is not whether the world will continue to unravel but how fast and how far." The outgoing chairman of the Joint Chiefs of Staff, Martin Dempsey, told Congress last year that "[the world is] more dangerous than it has ever been." (Someone really ought to tell the general about the Cold War, the Cuban missile crisis, and a little episode known as World War II.) Not to be outdone, former Secretary of State Henry Kissinger believes the United States "has not faced a more diverse and complex array of crises since the end of the Second World War." And then there's CNN and Fox News, which seem to think that most news stories should be a variation on Fear Factor…

We exaggerate external dangers in part because violent events are vivid and dramatic, and they seem scary even when they are rare and when they are taking place tens of thousands of miles away. (The Islamic State understands this, by the way, which is why they use beheadings instead of something more "civilized" and discreet, such as a drone strike.) As Steven Pinker and Andrew Mack have noted, global news coverage and the 24/7 news cycle have led many people to conclude the world is becoming more violent and dangerous, when the actual long-term trend has been going in the other direction. Durable peace is a boring "non-event" in which nothing much happens, so nobody bothers to report it. And that means most people don't appreciate how safe they really are.

But the main reason so many people stay afraid is that fear is good for the people who purvey it, and so they work hard to instill fear in the rest of us. Fear is what keeps the United States spending more on defense than the next dozen states combined. Fear is what gets politicians elected, fear is what justifies preventive wars, excessive government secrecy, covert surveillance, and targeted killings. And fear is what keeps people watching CNN and Fox News, and running out to buy the New York Times or the Washington Post. As both democratic and authoritarian leaders have long known, you can get people to do a lot of foolish things if they are sufficiently scared.

Unfortunately, this enduring exaggeration of external dangers can blind us to real problems. In fact, if you look at the past 25 years or so, it is abundantly clear that external enemies have done far less damage to the United States than we have done to ourselves…

…[W]hat ought to worry most Americans is not that we face a powerful, cunning, and hostile set of foreign rivals… The real worry should be America's demonstrated talent for shooting itself in the foot and then pretending that was where it was aiming all along. If you want to something to worry about, you should ponder our inability or unwillingness to learn from past mistakes, the ability of special interests to warp key elements of U.S. foreign policy, the bipartisan tendency to recycle failed policies and the people who devised them, and our habitual surprise when we meddle in places we don't understand and discover that some of the people we've been pushing around don't like it, want us out, and are willing to do nasty things to achieve that goal. Unless and until these features of U.S. foreign policy are altered, even those of us who are lucky to be living here in the relative security of the United States have something to worry about.
***********
Apart from trying to pull our socks up, what's on the agenda as we start another week?