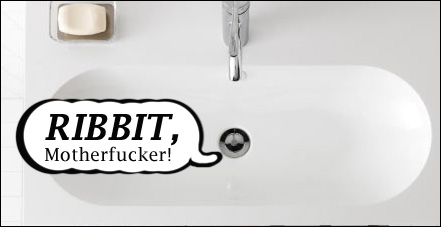 This morning, I was brushing my teeth, and I noticed the water in the bathroom sink was draining a little slowly. It wasn't a full-fledged backup, just slower than usual drainage. I looked in the drain, but I didn't see anything. Since I was still sleepy and bleary-eyed, I quickly forgot all about it.
Later, my husband came out of the bathroom to report that there was either a snake or a frog stuck in the drain. I think there used to be one of those metal plug things that raise up and down in the sink drain, but it is long gone, so now it's just a bare drain pipe opening with a slender metal cross bar recessed an inch or two below the sink bowl bottom.
The creature had wedged most of its head past the cross bar but couldn't seem to fit through the rest of its body through. Do I have a picture? Hell no — it could have been a snake, so I wasn't about to get that close to it.
We debated what to do about it. Snake or frog, we didn't wish to harm it, but we obviously had to evict it from our sink drain. Hubby proposed prodding it with a screwdriver, but I argued that would injure it. And possibly prompt a poisonous snake to leap forth and sink its fangs into his hand.
I proposed running water at a high rate of speed into the sink to create a pool and then plunging the critter down. I'm not clear on why that was considered a bad idea, but hubby basically said, "Oh fuck it, I'm going to prod the damned thing and see what it does," and off he went to the bathroom armed with a rounded Sharpie marker (lid on).
Well, all he had to do was lightly touch the creature with the marker, and it turned tail (revealing itself to be a frog after all) and fled. We ran water after it to make sure it would not return.
The end.
PS: That is not my real sink pictured above. My actual sink is from the 1970s and has never been that clean, at least not since I've lived in this house.