It's getting interesting* down Athens' way:
ATHENS — Greece on Thursday told the International Monetary Fund it would not make a $335 million payment due Friday, taking a little-used option to defer that payment and three others until the end of the month.

Coming amid tense debt negotiations with the I.M.F. and European creditors, Greece's decision holds political and financial-market implications that are hard to predict.
There's a historical resonance sounding in the brinksmanship going on here.  This isn't just a matter of debt and punishment.  What's at stake may extend as far as the post-war and then the post-Cold War idea of Europe.  That would be the one intended to prevent even catastrophically incompetent or indifferent rulers from lurching into any replay of the summer of 1914.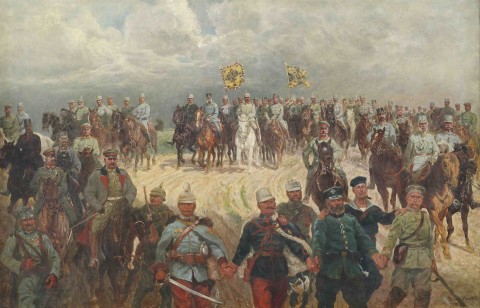 Here's Krugthulu, just as worried as I am — and way better informed:**
There's an odd summer-of-1914 feel to the current state of the Greek crisis. While some of the main players are, rightly, desperate to find a way to head off Grexit and all it entails, others – on the creditor as well as the debtor side — seem not just resigned to collapse but almost as if they're welcoming the prospect, the way, a century ago, far too many Europeans actually seemed to welcome the end of messy, frustrating diplomacy and the coming of open war.
The most troubling sign to me is the persistence of the disbelief on the part of international elites/opinion shapers that the Greeks might actually bolt from the Euro.  Never mind the risk to  the various institutional ties that are supposed to hold Europe together in a way that bars future conflict, armed and otherwise.  The idea that someone in a dispute might do something you don't like seems just too difficult to accept on the part of Greece's negotiating adversaries.
But there is real hardship in Greece right now, and there has been for years.  Political imperatives matter too:  the Greek government is new, left-leaning, and in power because they explicitly promised not to make deals that would satisfy Germany at the expense of the Hellene in the street.  There really is no guarantee — and lots of reasons to believe the reverse — that this one little, broke country will actually do the bidding of its would be financial masters — and yet even the slightest sign that such resistance is real evokes a kind of bemused wonder.
You can see something of the cognitive dissonance even in the brief "breaking" story in the Times linked above:
Although the practice of bundling I.M.F. loan payments into a single sum during a calendar month is allowed under the fund's rules, the last time that option was taken was by Zambia in the 1970s.
I'm sure there's a kinder way of reading that sentence, but it hits my ear as "Greece has the right to do this, but they shouldn't."  Unwritten rules, old boy.  Unwritten rules.
I'm with Krugman:  whether or not Greece would be better off or not dumping the Euro, Europe and the world gain an enormous amount from financial stability — which would be badly shaken if it looked like Euro-troubles were about to overtake the currency union.  In other words, it looks to me like Europe (even Germany!) needs Greece at this moment at least as much as Athens needs Brussels.
But what do I know:  I once vowed as a blogger not to behave like a pundit, which is to say, to bloviate about stuff I know only superficially and at second hand.  One thing I do know about, though, and have written on, is World War One.  No one's mobilizing at this moment, and historical analogies are always fraught on so many levels.  But still, the insouciance, the lack of imagination about consequences — that was overwhelming then.  I smell it thickening in the air now.  That's not good.
Over to y'all.  What knowledge and insight lurks within the snarling mass of the Balloon-Juice commentariat.
*As in, "May you live in interesting times."
**This was written last Friday, which is to say before this latest news dropped.
Image:  Ludwig Koch, The allied monarchs and their field-marshals in the First World War,  (Kaiser Wilhelm II of the German Empire with Austria's Franz Joseph)  c. 1915