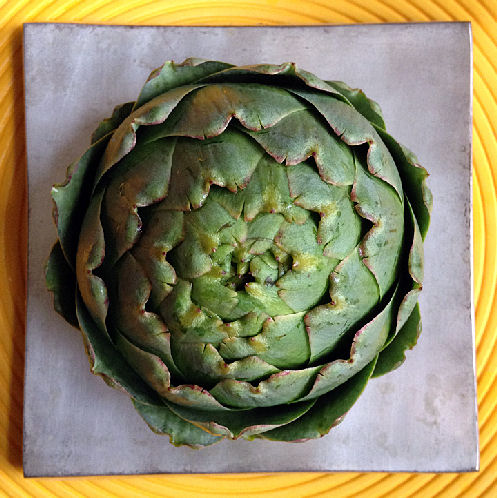 From faithful Garden Correspondent Marvel:
We're having a warm, 90+ degree weekend here in the Willamette Valley — I've started a a pool with my friends re how many inches the corn grows these next few days — I'm betting 3.

With the welcome warmth, everything else in taking off, too.

The peas are showing plenty of flowers & pods, the lettuces are will no-doubt be bolting soon (we picked & "green" bagged several heads of romaine, pre-bolt, today).

The carrots & beets are a JUNGLE of robust green tops and the potatoes have sprung up at least a foot above the last of their leaf mulch hills.

I planted some kind of jasmine a few years ago (white fowers, purple vine) — it embodied that nursery adage: The first year, it sleeps; the second year, it creeps; the third year, it LEAPS! It's breezy out right now and the yard is filled with that lovely jasmine scent.

And I ate my first artichoke — heaven.
***********
Here north of Boston, it's been a tiring week of hauling sacks of sodden potting mix and dragging laden root pouches. But I'm down to the last few waiting transplants (two more full-sized tomato plants, four cherry tomatoes, another basil, and a rosemary that will no doubt disappoint me bitterly by refusing to bloom, just like all its forbears). If moving up to bigger pouches to give each plant more root space doesn't improve production, the Spousal Unit will never let me hear the end of it.
What's going on in your gardens this week?