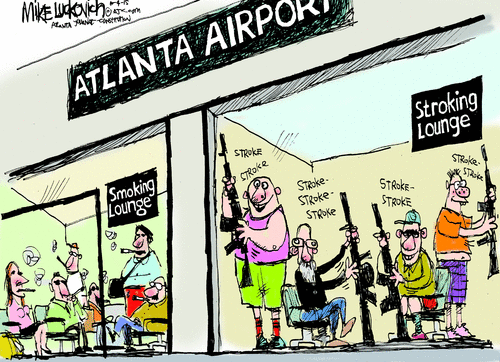 Today's entry (I owe someone a hat tip), via TPM:
A judge on Friday granted the St. Louis Zoo a restraining order against a gun rights activist planning a march at the zoo on Saturday, according to the St. Louis Post-Dispatch.

Jeffry Smith, who organized an open carry march in downtown St. Louis last year, said he planned on carrying firearms into the zoo on Saturday in order to protest the zoo's policy banning weapons. He invited others to join him on the gun rights demonstration and created a Facebook event for the protest.

Missouri state law prohibits firearms from amusement parks, but Smith said that the zoo may not fit into that category because it's taxpayer-funded and public, according to the St. Louis Post-Dispatch.

"That signage, unless it's backed up by case law or statutory law, is nothing more than the zoo's attempt to reinforce their biases and to deceive people into not exercising their rights," he told the Post-Dispatch. "This is not about protecting oneself from the wildebeests in the zoo. This is about the zoo deceiving people into thinking they don't have that choice."….
Wise man Roy Edroso, at Alicublog, on "Winning Hearts & Minds By Pointing Guns at Them":
The Christian Science Monitor explores the "etiquette" of America's open-carry-mania. Some gun enthusiasts believe, or at least pretend to believe, that if they act like the loaded weapon they're twirling at Arby's is no big deal, ordinary citizens will get accustomed to living in a dystopian novel instead of modern civilization and we'll soon be one be one happy, bloody shoot-'em-up society. CSM even hears from Ole Perfesser Glenn Reynolds, who says, "This is what lefties have done for decades, and it works" — a cryptic statement, perhaps meaning that since liberals created feminism by letting their women go around without bras, it stands to reason that a bunch of crackers playing "Guess Whether I'm Going To Kill You And Everyone Else Here" at the Chuck E. Cheese will usher in the Groovy Second Amendment Revolution…
My standard defense to Second-Amendment absolutists: I, personally, don't feel the need to own a gun, any more than I need to own a chainsaw. Carrying it around would probably help me get a seat on the bus, but that's a ridiculous misuse of a potentially dangerous tool. And besides, if I walked around carrying, I'd be a lot more tempted to waste time arguing with the unpersuadable… right until I blew the first one or six or eight away.