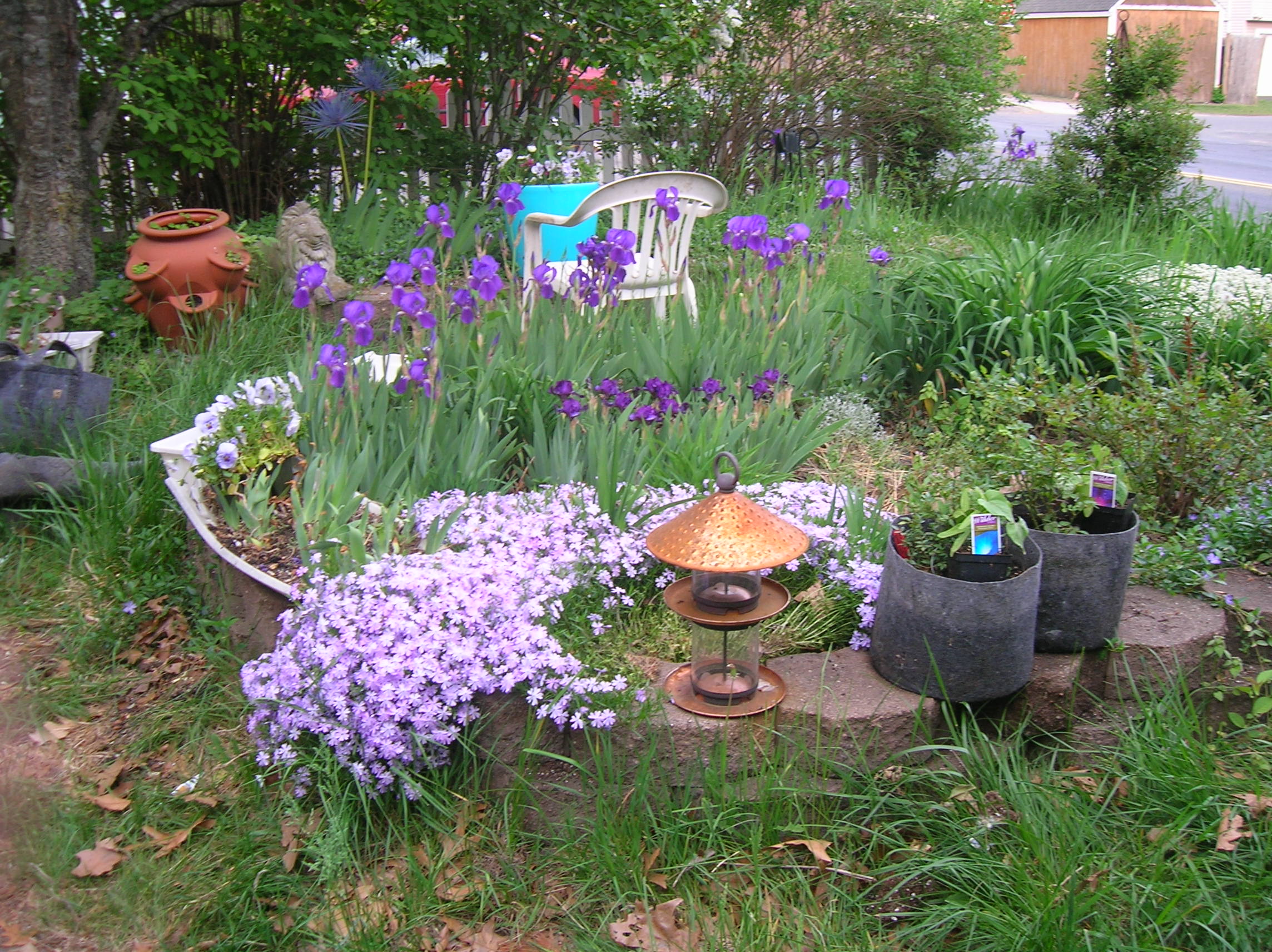 Everyone's too busy gardening to send me photos (pic above is my yard in mid-May, neighbors' carport at top and street at top right). So here's some clippings I've been saving.
From the NYTImes, "Urban Gardening on the Third Floor":
Kerry Trueman and Matt Rosenberg began by growing tomatoes on the roof of their third-floor walk-up in the West Village more than 20 years ago…

They used a ladder to climb through the roof hatch then. They built large planters for strawberries and 20 different kinds of roses. They grew blueberries and corn and hops. They had to dismantle the roof garden in 1998 during a legal battle to keep their building rent- stabilized. But by then, they were hooked. "Tomatoes are the gateway drug," Ms. Trueman said.

These days, their garden reincarnation resides in boxes that face south, east and north outside the windows of that same 450-square-foot apartment. At 4 ½ feet long by 1 ½ feet wide and deep, the containers are almost too big to call window boxes…

Made of rot-resistant cedar, the boxes are held snugly to the walls by heavy-duty steel brackets, the kind used to keep air-conditioners from falling to the ground. Wooden slats are spaced slightly apart at the bottom, for drainage. And unlike coffins or traditional window boxes, they have only three sides. The open side faces into their apartment, so that plants growing in malleable bags called Root Pouches can be easily moved in and out…
A less hopeful story from the Washington Post, "For some Washington-area gardeners, paradise lost":
Last fall, Bo Barefoot said a quiet goodbye to his beloved Mexican fan palm and waited for the winter gods to take it.

The palm tree had grown so large in his front yard in Glen Echo Heights, Md., that he could no longer afford to protect it against the impending freeze. The gods came, and they were greedy…

The first frigid winter in years left gardeners demoralized, horticulturists say, and the second one has reinforced their view that the beach party that began in the late 1990s is over. The Agriculture Department's plant-hardiness map puts the District in the colder half of Zone 7, with winter extreme low temperatures averaging 0 to 5 degrees. But the warm years convinced many they were in a Carolinian Zone 8 (with lows bottoming out between 10 and 20), a perception borne out by their ability to grow gardenias, hardier palms, perennials from Mexico and eucalyptus trees…

One person rejoicing at the harsh winters is Tony Avent, whose Plant Delights Nursery in Raleigh, N.C., features a 28-acre botanical garden, where he tests plants for their performance. He plants as many as 2,000 new varieties annually, and is happy that the past two winters killed as many as a third of them.

"I'm thrilled, and all my plant people look at me as if I've got snakes coming out of my head," he said. "Having these mild winters, yes, I got to enjoy the plants, but I learned nothing."…

Avent is known for his unusual and choice varieties of hardy perennials, oddball tropical plants and those in between. The milder winters played to the garden geek's deep desires to push the horticultural envelope. "Everybody wants the plant they can't grow; we want what we can't have," he said. "That's human nature."…
***********
I'll admit I expected a lot more damage from the fierce winter here in Boston; we did lose some rose bushes & perennials, but thankfully the Don Juan climbing roses in the most protected, sunniest spot next to our front door have finally rebounded. My lazy gardening habits probably ensured a higher survival rate, since anything tough enough to survive my negligence is very hard to kill. Of course, during the harsh grey days of spring, I over-ordered new roses, which I'll be hard-pressed to find proper protection for come Fall…
What's going on in your gardens this week?