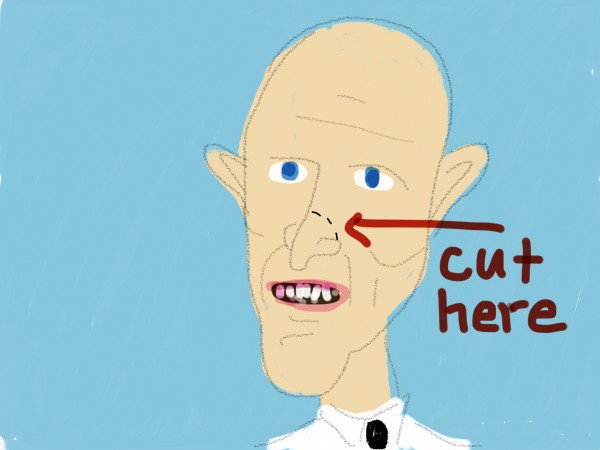 Today's Supreme Court decision on Obamacare makes the law about as settled as it can be given that congress and most statehouses are run by hairspray-huffing shitweasels who occupy an alternative dimension where "flush billions down the toilet" = "fiscal conservatism."
Shortly after the Supreme Court decision today, our shitweasel governor here in FL announced that he's dropping a lawsuit he filed against the Obama administration in an attempt to extract a $2 billion handout via a low-income care program — after declining to expand Medicaid to the 800K Floridians who would qualify under Obamacare.
TALLAHASSEE — Florida Gov. Rick Scott is dropping a lawsuit against the Obama administration after reaching an agreement over federal hospital funds.

State and federal health officials reached an agreement in principle earlier this week to continue funding Florida's hospital low-income pool for two more years, but at a lower cost. Florida will receive $1 billion this year — about half of what the state had been receiving — and $600 million next year. In a statement Thursday, Scott said his lawsuit was essential to getting the funds extended.

Scott's lawsuit accused the federal government of tying the funds to whether or not the state expanded Medicaid.

The Obama administration and the Florida Senate wanted to expand Medicaid to roughly 800,000 Floridians. But Scott and Florida House Republicans opposed to taking money tied to so-called Obamacare.
Yes, you read that right: These morons turned down $6 billion or so annually because it has Obamacare cooties but were prepared to go to court to shake the feds down for a relatively paltry $2 billion. As a result of this super-genius bluffing strategy, Scott got $1 billion this year and $600 million next year, and he deems it a victory for fiscal prudence.
As far as I know, Scott hasn't yet outlined his double-secret negotiating strategy for next time the money dries up, which will be 2017. God willing, President Hillary will send him home pants-less with a $400K mortgage note on Stately Scott Manor. This would all be laughable if people weren't literally dying because of Scott & Co.'s pigheadedness.
ETA: Open thread for anyone who wants to use it for one. We've had a lot of Obamacare threads today. In other news, the AP says Chris Christie is going to announce a run on Tuesday. They're gonna need a bigger clown car (and no, that's not a fat joke — there are just so MANY clowns!).