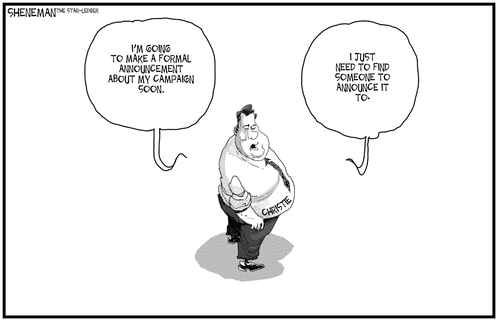 Jeb Lund, at the Guardian:
Chris Christie is now officially running for president – and what makes Chris Christie special is that he is running because he is running, and because what are you going to do about it? The animating purpose of Christie's entire career is one regionally-accented hostile tautology: why is Chris Christie in the race? Indeed, why does Chris Christie do anything? Because f-you, that's why…

But it is very difficult to conduct a campaign as the man who is a "solution" to "Washington" when you have multiple staffers under indictment, have inched close to threat of indictment yourself or are actually under indictment. Christie has the first two and may hit the trifecta – as may Scott Walker. (Rick Perry is under indictment, but he wears it well, because his demeanor is a man who seems unaware that he is under indictment, which is consistent with his theme of being unaware of most things.)…

The most dynamic and interesting thing Christie could do now would be to pivot left – bully his fellow Republicans for living in the past when it comes to Obamacare and same sex marriage, tell them to get real, get a life and get with the 21st Century. He could tell audiences that the other candidates could never win because they don't get it, stomp across the stage like a conservative Howard Beale delivering a purple-state reckoning to every schoolyard joker trying to build a government in a sandbox instead of in the real world where bullies can kick them apart and deliver real life lessons. It would be mesmerizing.

But that's completely unrealistic, because it would stop the end goals of the Chris-Christie-for-Chris-Christie train – the local to nowhere that stops at every ATM. That truth-teller schtick only pays the bills if you believe it, and the only people Christie has ever kicked the crap out of on his way up have been straw men and targets of opportunity. He doesn't swing at big checkbooks or institutions, certainly nothing solid enough to bruise the glad hand. And, when this is all over, if no indictments hold, having outclassed dead-enders like Carly Fiorina, Ben Carson, George Pataki, Bobby Jindal and a few others, he will be there at the top, with Donald Trump – brands to the last, available to speak for certain fees, never having sold out apart from that first fatal sale that embarked on a life that reached its soul terminus here…
Mr. Charles P. Pierce, at Esquire:
…[N]ow that Chris Christie is out there tellin' it like it is, taking his 30 percent approval rating in New Jersey out for a spin, it seems a waste of time to point out that Big Chicken's candidacy is less popular than brucellosis in Iowa, and that, at the moment, he's pushing in all his chips on New Hampshire, where he is currently edging out Dr. Ben Carson. (Also, in one poll, 55 percent of Republicans said they wouldn't vote for him under any circumstances.)…
Nate Cohn, at the NYTimes, dutifully tinkertoys a potential "Path to Relevance"…
…[M]any candidates with little or no chance to win the nomination nonetheless play a big role in presidential primaries, and Mr. Christie could be one of them. He could drain votes from Jeb Bush, widening the opening for Marco Rubio or even improving Scott Walker's odds to win both Iowa and New Hampshire…

If Mr. Christie's campaign took off, it would mainly be at Mr. Bush's expense. It is hard to see Mr. Bush winning Iowa, where the most conservative voters reign, which makes it all but necessary for him to win New Hampshire. A weaker Mr. Bush would give Mr. Rubio a better chance to win New Hampshire, which might be as important to his chances as it is to those of Mr. Bush. It would also give Mr. Walker a better chance of following a win in Iowa with a win of his own in New Hampshire.

But in all those situations, Mr. Christie probably goes back to New Jersey.
Jamelle Bouie, at Slate, uses Christie to explain why one should "Never Wait to Run for President":
… Christie's prospects have changed sharply from three years ago. Then, Christie was the strongest commodity in the Republican Party. Uncompromising and pugnacious, he fought pitched battles against public sector unions before Scott Walker had ever touched the national stage… By early 2011, top Republican donors were begging Christie to enter the race. They wanted a credible and exciting alternative to the milquetoast Mitt Romney and his lackluster challengers. Christie refused…

We'll see how Christie's story ends. But thus far, it illustrates an important rule—perhaps the only real rule—of presidential politics: If you have a shot, you should take it. The United States has an endless supply of people who want to be president; by waiting, you up the odds that one of them will get in your way, or surpass you entirely…

Even if you stay ascendant or at least relevant, you have to deal with the damage that inevitably comes with tenure in public office. The longer you're governor, the more chances you have to disappoint your constituents, court a scandal, or just get stuck in the inevitable, everyday grumpiness of governing. A Chris Christie who jumps into the race in 2011 is a Chris Christie who never has to deal with Bridgegate…
As far as I can tell, Mr. Pierce is the wordsmith responsible for the "Big Chicken" moniker. For some history, here's a link to something Pierce wrote at the beginning of last year:
Today's required reading is Alec MacGillis's long-eyed view of Chris Christie's long career of gettin' some sugar as something of a politician in New Jersey. Suffice it to say, it did not start at the George Washington Bridge. The man's entire career, as limned by MacGillis, makes him out to be a kind of Huey Long with helicopters…

the more I read about this, the more I am convinced that what we're dealing with here is an information-age Kingfish, who found a state, not that he could loot, but that he could use as a vehicle for his political ambition, and he fashioned a pleasing personality through which he could take control, but, at every stage, when it came to a choice between that personality and that ambition, the former always — a-l-w-a-y-s — gave way…
Has magical power to make traffic jams happen, and state pension money vanish –> https://t.co/PEmPtSsKIi

— Billmon (@billmon1) June 30, 2015
Chris Christie gave retiree assets to hedge fund managers bankrolling his political career: http://t.co/Lb4Ap7iBvw pic.twitter.com/Ppl8oSAmmF

— The Nation (@thenation) June 30, 2015
"Nobody here but us chickens." pic.twitter.com/2mQycajJjV

— Billmon (@billmon1) June 30, 2015