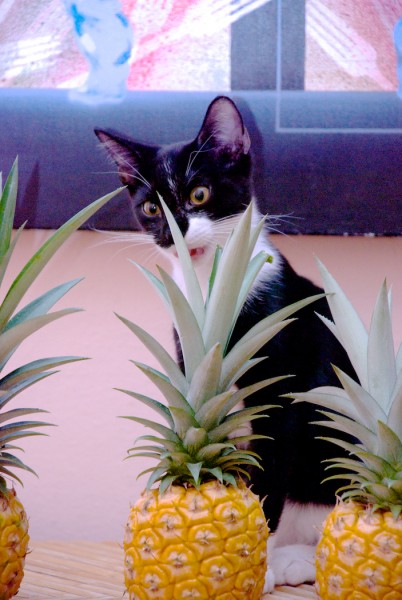 From Zone 10 botanical correspondent Stan of the Sawgrass:
This years Tineapple harvest (minus 2) with kittens (Max, in tux, and Minnie, in mufti) for scale (and cuteness.)

Pineapples, as always, were mellow, sweet, and excellent. The core is soft enough that you don't notice the extra fiber.

Tried fertilizing the hell out of 'em this year, but it didn't seen to change the size much, although the avocado tree next to the pineapple patch went nuts– went from about 9 last year to twenty-plus this year.

Pretty good year for mangoes, too, though there were two crops at the same time: great big ones from the normal blooming, and little bitty ones from a second, late blooming. I'm pretty sure that it has to do with the changing climate.
Apart from the happiness of gardening & kittens, what's on the agenda for the start of the first "real" week of summer?