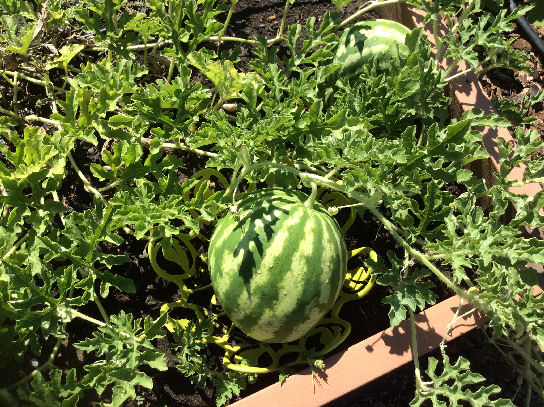 From loyal garden correspondent Scout211:
We had a very hot spell recently, with daytime temps in the low 100s, so many blossoms did not set during that period. The weather now is in the 90s and maybe next week in the 80s, so more blossoms will set for future harvest.

The tomatoes are abundant this year, as are the melons, squash and peppers. My corn was a bust, but I just couldn't give it the water it needed, with the drought here in California.

My kitchen counter today. Yesterday I chopped and bagged 3 quart-sized ziplocks full of bell peppers and made 6 quarts of marinara sauce. All are in the freezer.

Yummy ambrosia melons. I use a trellis for melons because of the small space in my raised beds. Ambrosia melons are simply the best, sweetest melons, IMMO.

Jalapeno peppers.

Honeydew melons.

One of my 8 tomato plants—all doing well this year.

Butternut squash.

Yellow crookneck.

Strawberries.
***********
Here in New England, I'm thrilled to report that I picked my first ripe full-sized tomato this week — a Cherokee Purple. It was a pea-sized fruit when I got the plant in the mail; I should've done as recommended and picked it off while transplanting, because that vine just hasn't done nearly as well as its fellows. But we have a ripe tomato, as a promise from all the green globes now swelling up among the lush foliage!
What's going on in your gardens, this week?