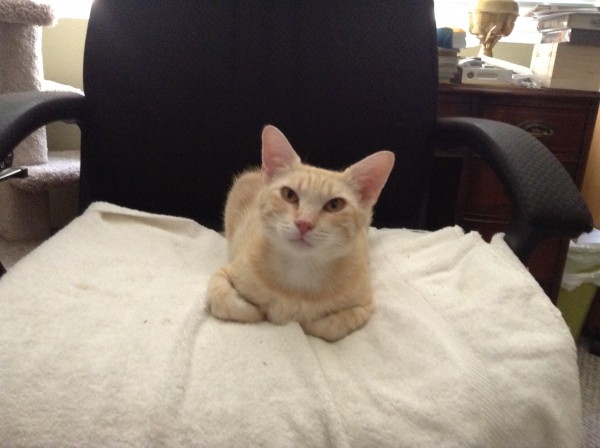 From commentor and cat-rescuer Marc:
I renamed her ˜Miri" because ˜Strawberry Shortcake" didn't seem to quite fit (although she is a very sweet kitty!). After a few days, I realized her soft meow sounded like she was saying ˜Miri", so that is what I told the vet. I got her signed up with Banfield for kitten care plus, which will deal with her needs for the first year including spay. After declaring a her healthy, but a "little bit pregnant" 9.6 lb kitty, she was sent home with an appointment for the spay to be performed on July 12th.

On the day of the spay appointment, the vet who checked her out stated it would be risky to terminate her pregnancy this far along. She could direct me to another vet who might be willing to do it, but she was not comfortable at this point. I declined, brought Miri home, and she will have her kittens in about a month (or sooner).

Looking at the calendar, that puts the kittens arrival around the week of 9-15 August, with fostering out sometime late September or early October. I wasn't planning to deal with kittens, but life (and Miri) had other plans. I just hope I don't get attached to the whole bunch, and decide to keep them all. From a practical standpoint, I'd have to get a second job just to keep 'em in kitty litter…

I said I'd get Miri to become a lap kitty when she arrived at my condo. My bad. Miri does not want to sit on my lap while I'm on the computer – she has taken over the computer chair, and I'm now using my kneeling chair, while she lounges on the computer chair. Yeah, she rules me with an iron paw.

Cats were once worshiped as Gods, and I know my place.

PS: I've only used a little of the money donated – paid for her initial encounter with the vet. I'm covering the monthly bill for her Banfield kitten care plus program. If there are any additional expenses associated with her spay, I'll use the funds for that, then send the remainder to a shelter or other place which help pets like Miri.
That would explain why Miri didn't seem like a true feral — she wouldn't be the first teenage cat who ran away from a perfectly good home when the hormones kicked in, and then couldn't find her way back afterwards. But something tells me Marc will have some willing accomplices when it comes to finding the best homes for Miri's kittens, later in the Fall.
***********
Apart from happy news, what's on the agenda for the day?