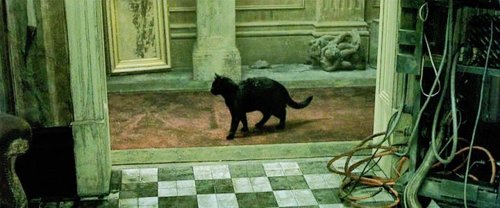 At about the same time a thousand different people noticed that Texas DPS released a video of Sandra Bland's arrest that has a number of suspicious moments on it. And no, I do not mean a jackass officer pulling over and then roughing up a young woman for no apparent reason at all. I mean that quite a few cars and pedestrians seem to rewind and go by twice while the audio track rolls on seemingly uncut. You can see several examples below from about 32 to 34 minutes. Check it out before someone at Texas DPS wises up and takes the video down.
If video got spliced out, that would indicate they cut something from the audio and needed to shrink the vid to make it fit. But in this case someone spliced extra video in. Why would you do that? The most obvious would be if you needed to add some extra dialogue in post. In support of that point, notice that the hiccups mostly happen after they start talking and before he arrests her. In that case an audio expert – god knows the internet has a few – will probably ferret out the bogus dialogue by the end of the day. Any other ideas? Discuss in the comments.
***Update***
I have a confession to make. I hate watching internet videos. If a something important comes out I usually wait for transcripts and descriptions by writers whose judgment I trust. I can't remember the last time I watched an important presidential speech or Daily Show clip in a web browser (James Bond trailers, ok). For people who suffer from the same condition that I do, low tech cyclist has a helpful comment.
Cars go 'poof' and disappear at 32:38, 33:06, 33:25, 33:55, and 33:59. And they're the same cars we see repeating their trips down that road several times – the two white cars and the grey car on the right, headed away from us, are pretty easy to identify on their multiple repeats.
Ergo someone is both cutting and pasting. This is one shady ass video.