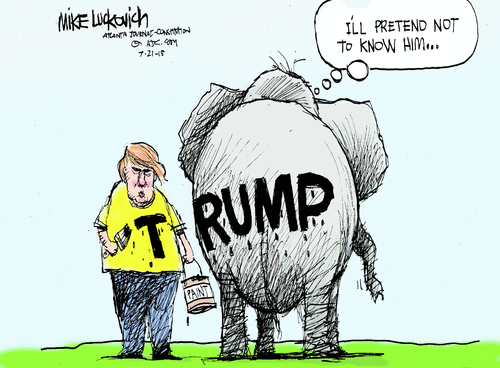 Okay, yeah, Trump's the political equivalent of HFCS-frosted doritos with a side of low-fat ranch dressing, but for us Dems and devout cynics, he's also the gift that will not stop giving. Like the herpes your cheating college ex just picked up during his late-night bar crawls, the more grief The Donald gives "his" party, the harder it becomes to hide our smirks. Could not happen to a more deserving bunch. This latest POLITICO cri du coeur "memo to Trump's super fans" from "national Republican message and media strategist" Rick Wilson actually made me LOL…
… Don't be fooled by Trump's double-digit lead in a new poll: He is not going to win. He's not going to win the primary. He's not going to win the general. He's not going to win a third-party bid. Sure, he can damage the GOP ticket badly enough to guarantee Hillary's election, but he can't win. He's too flawed, too liberal, too undisciplined and too afflicted with verbal dysentery when even slightly provoked. He lacks the fundamental presence and gravitas of a commander-in-chief…

Trump will lose, and Trump supporters will wake up with a combination I call "herpes and a hangover." They may have had fun the night before, but they'll regret the hangover for a day. However, if Trump's games in this campaign lead to the election of Hillary Clinton, they'll regret the herpes a lot longer.. Here, Trump enthusiasts, is what I'm hearing you say, and why you're Hillary Clinton's new best friends:

1. You're angry as Hell, and by God, you're going to teach the GOP a lesson. Even if it means (and it well may) that Hillary Clinton sits in the White House, names 3 or 4 Supreme Court justices and lets Bill run around the East Wing molesting the help, you're going to teach the hated Establishment a lesson by becoming Trump Super Fans, even if he runs as a third party candidate and guarantees Her victory…
Confirmed official from Trump camp on 3rd party: "I am running as a Republican but if I am not treated right then I may run third-party."

— Dana Loesch (@DLoesch) July 23, 2015
Day 35 of the Trump hostage standoff https://t.co/rQF0op4PcE

— Benjy Sarlin (@BenjySarlin) July 23, 2015
This civil war within Right-of-center coalition has been brewing for years, and Trump appears to be its John Brown if you get the reference.

— Steve Deace (@SteveDeaceShow) July 23, 2015
Brian Beutler, at TNR, on "Why Donald Trump Truly Terrifies Republicana":
…[Some] Republicans hew to the theory, expressed numerically by RealClearPolitics analyst Sean Trende, that making inroads with minorities is not important. The key to winning, they believe, lies with activating a large block of the white electorate that has stood on the sidelines, but would find a natural home in a Republican party if it were led by someone who could channel the political mood of the white working class.

Donald Trump is currently performing the hugely important political task of adjudicating this intra-GOP debate. Running as a Republican, Trump has made both factions' goals—and the overarching goal of winning the presidency—more elusive. But by stitching together all the performative qualities Republicans have nurtured on the right over the years—pomp and property worship, xenophobia and anti-establishmentarianism—he's also showing us what it takes to stir the passions of these missing white voters. Most Republicans, quite sensibly, are horrified by what they see.

In years past, Republicans didn't think of Trumpism as a liability so long as Trump was outside the tent pissing further out… When Trump was busily whipping up reactionary sentiment, indulging birther conspiracies, Republicans didn't see a "jackass"—they saw an opportunity. They recognized his appeal to a segment of white voters, and concluded it could be put to good use, so long as he marshaled his followers into the Republican electorate. They didn't call him a media creation back then—they sought his endorsement.

Trump is now inside the tent, pissing everywhere. He threatens to neutralize the potential of these voters, or train them as a weapon against their own natural party, while bulldozing inroads to minorities. By placing xenophobic immigration politics at the center of the campaign, he's made it practically impossible for Republicans to convince minorities that there's a softer side of the GOP. And by condemning him so vocally, his Republican critics are reminding Trump's supporters of everything they don't like about the Republican party…
Donald Trump is way ahead in a new ABC/Washington Post poll. Here, no doubt, is what transpired in the Oval Office. pic.twitter.com/FpANiMvlQe

— Matt Viser (@mviser) July 20, 2015
In 2012 Bachmann knocked out Pawlenty. In 2016 Trump may take out five or six candidates.

— Reid J. Epstein (@reidepstein) July 20, 2015
The fear sets in RT @FrankLuntz: If Donald Trump runs as an independent, the next president will be Hillary Clinton. http://t.co/APR9DaP1OG

— Benjy Sarlin (@BenjySarlin) July 20, 2015
When is Donald Trump going to stop embarrassing his friends, let alone the whole country?

— Rupert Murdoch (@rupertmurdoch) July 19, 2015
Donald Trump and Rupert Murdoch, in happier times. pic.twitter.com/YHj47oHARw

— Bob Schooley (@Rschooley) July 21, 2015
Gabriel Sherman, in NYMag — "Rupert Murdoch Wants to Stop Donald Trump, But First He's Got to Rein In Roger Ailes":
The mounting problem Donald Trump poses to Republicans is also a mounting problem for the country's most powerful conservative media mogul: Rupert Murdoch. [Wednesday]'s New York Times gives front-page treatment to the billionaire grudge match that has become a major story line in this year's (already) fractious GOP primary. The piece by political reporters Amy Chozick and Ashley Parker chronicles Murdoch's intensifying efforts over the past week to blunt Trump's surge to the top of the crowded GOP field…

One reason Murdoch is taking to social media and deploying his publishing properties to attack Trump may be the simple fact that he hasn't been able to control his most powerful media organ: Fox News. According to sources, Murdoch has tried — and failed — to rein in Fox News Chairman and CEO Roger Ailes, who, insiders say, is pushing Fox to defend Trump's most outlandish comments. This week, Ailes told his senior executives during a meeting that Murdoch recently called him and asked if Fox could "back off the Trump coverage," a source told me. Ailes is said to have boasted to his executives that he told Murdoch he was covering Trump "the way he wanted to." The implication was that he wasn't going to budge…

Murdoch's public and private attempts to temper Ailes make Sunday's Wall Street Journal editorial all the more fascinating. The piece — which carries no mention of Fox — excoriated the conservative media "apologists" that have been backing Trump. "Too many have adopted the view that there can be no adversary to their right," the Journal said. "This was mainly a left-wing affliction in the last century as many liberals refused to condemn Communists. But today many on the right seem willing to indulge any populist outburst no matter how divorced from reality or insulting to most Americans. If Donald Trump becomes the voice of conservatives, conservatism will implode along with him."…
It just occurred to me: If Donald Trump runs as an independent and polls in the teens, he'll be in the general election debates.

— Josh Barro (@jbarro) July 21, 2015
Also, why didn't Goebbels kill Hitler? http://t.co/XCZzBeor3D pic.twitter.com/F6jQeiLuso

— Bob Schooley (@Rschooley) July 22, 2015
Ryan Lizza, at the New Yorker, "Trump to G.O.P.: "You're Fired" —
… While there was widespread condemnation of Trump's comments from Democrats and many media commentators, Trump's Republican rivals remained largely silent… The obvious reason behind this silence is that many voters in the G.O.P. primaries are sympathetic to Trump on the issue of immigration. Yes, the typical Republican candidate might think that the G.O.P., in general, needs to condemn anti-immigrant bigots. But there's no benefit for any one candidate to speak up. A look at the polls supports this cynical analysis: much of Trump's rise, which has been fuelled by his immigration tirades, has come at the expense of his most conservative rivals, who all see their opening in the race to the right of Jeb Bush, the candidate of the Republican establishment…

After the 2012 election, the new G.O.P. chairman, Reince Priebus, published a refreshingly honest and relatively unprecedented report about why Mitt Romney lost and how Republicans could win in 2016… Trump, who has dominated Republican-primary coverage for more than a month, and who, in a new ABC poll, has registered his largest lead since he entered the race, in June, has been like a Daisy Cutter to this strategy. He has made his rivals look weak and unwilling to speak up for the Latino community, and he has made it even more difficult than usual for them to embrace the one piece of legislation that the R.N.C. believes is essential for the Party's future….

One can laugh at Trump and his absurdities, but it's wrong to say that he doesn't matter. He has exposed and exploited the Republican Party's two great weaknesses: the fact that many of its voters don't agree with Party leaders on immigration and the fact that the Party is powerless to do much about it.
And finally from our poll- Trump's hair has a -37 favorabilty rating at 12/49. Which makes it more popular than Chris Christie (-42 at 19/61)

— PublicPolicyPolling (@ppppolls) July 22, 2015
Atticus Finch has had enough of this New York ruffian. pic.twitter.com/foOzhW983g

— Bob Schooley (@Rschooley) July 24, 2015
I never want the Trump campaign to end. http://t.co/x99RJn09TI

— daveweigel (@daveweigel) July 23, 2015