Just a screenshot of the Huffington Post polling aggregator from Wednesday and a few things that stood out to me: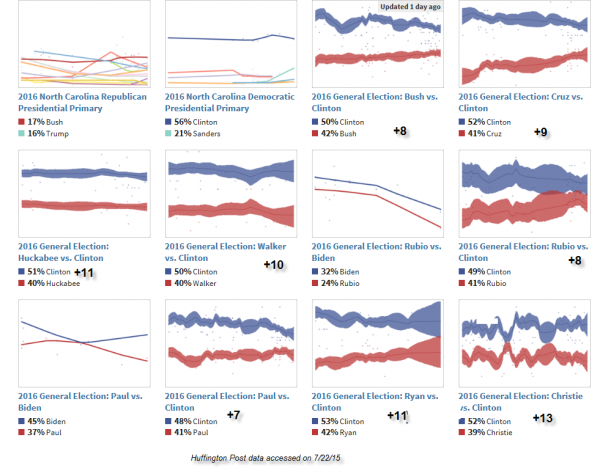 A few things stood out to me:
Clinton's top line number has a narrow range no matter whta candidate she is paired against (48% to 52%)
Biden is doing niether better nor worse than Clinton in terms of margin on the few paired comparisons (Paul, Rubio)
Clinton's margins are tightly clustered against top tier GOP opponents (+7 to +10)
Republicans really don't like Chris Christie as he is running behind Cruz, Huckabee and most likely my pet rock versus Clinton.
Looking at this data, this is basically generic Democrat versus generic Republican.  The Democratic base seems more consolidated and willing to back their candidates while the GOP primary process has people who will eventually vote their partisan allegiance but will need to be wooed.  The woo-ables are probably Republican leaning so we should expect a decent GOP convention bounce.
Secondly, in the GOP race, there is a minimal penalty for being severely conservative, maybe a point or two (Huckabee, Cruz).