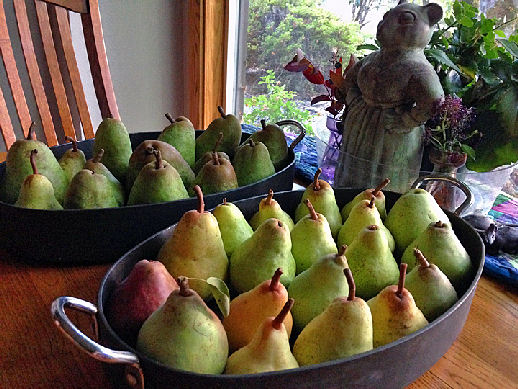 From faithful garden correspondent Marvel:
Over this-away, we're up to the third verse of that old gardener's refrain, What Were We Thinking When We Planted All That.

We've started picking pears and are happy that they can spend a little time without our help (or processing!) ripening up. They make a pretty still life, but it's an oxymoronic tableau — there's NOTHING still in August around here!

The lettuce, parsley and spinach we planted a few months ago are still going strong. While we've had a few blistering hot days in their short & fragile lives, quick rigging of umbrellas and shade cloth has been sufficient to prevent their bolting…so far.

We've been canning and freezing tomatoes like crazy. I usually put in 12-14 varieties, assuming I'll lose a certain amount to bugs, slugs or BER. This year, after defending them against some critter(s) that gobbled the first few ripe fruit, we find ourselves awash in hale/hearty/productive plants. I've taken to going door-to-door to my neighbors with big trays of tomatoes for their taking (kind of a reverse Halloween thing, sans costume). Sometimes they make me bring a zuke or two home in return (we harvested & pulled up our zukes a few weeks ago) — it's only fair.

We're on our third flight of string beans — the plants are looking pretty tired with a crispy bough here and there, but they've put up one more generation of blossoms so I'll be happy to pluck a few off whenever they're ready to hand 'em over.

The Fall & Winter plantings (peas, kale, cabbage, brocolli and cauliflower) are all getting big and strong — I bet we end up eating some of each before the first serious leaf drop of Autumn.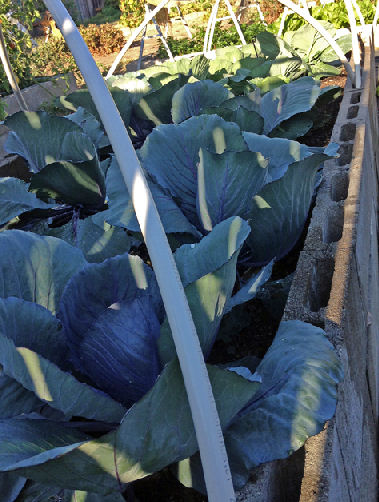 ***********
Here in New England, an unusually clement summer gave way to a week-and-counting of "oppressive" humidity… just as all the various blights went into overdrive. I sprayed Serenade on all my tomatoes but it looks like a losing battle, the leaves are wilting on the vines and the ripe fruit are rotting before I can pick them.
At least I've established for future seasons that giving each plant more root room definitely improved productivity. There's plenty of fat green fruits hanging on the blasted vines, and if I can bear to spend a couple hours this afternoon cutting away the dead leaves I'm hoping the cherry tomatoes at least will revive once this steam bath dissipates.
I made the mistake of showing the Spousal Unit this Lifehacker post on freezing whole tomatoes for sauce, and now he's getting predatory about the nicest ripe specimens. Anybody tried this method, maybe have some advice?
What's going on in your garden(s) this week?