Here's a lovely salt marsh located near Cedar Key, Florida: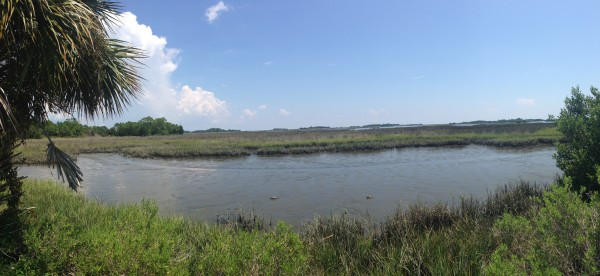 There was a beautiful roseate spoonbill trolling for shrimp, but the bastard jumped behind the grass when I tried to get a picture of him.
I was up in the northern part of the state visiting my grandma this weekend. I also had dinner and drinks with my uncle, who shocked me by saying he was considering a vote for Trump. Sweet babby jeebus.
Long story short: He thinks the entrenched political class needs to be eradicated root and branch, and while he recognizes that Trump is a raging buffoon, he sees him as a protest vote who would be no worse than any of the others.
I think I was successful in securing his primary vote for Sanders, but he doesn't believe Sanders will be the Democratic nominee, and he's probably right about that. In a contest between Hillary Clinton and Trump, my uncle says he would vote for Trump. And he's not a racist or a stupid person, at all. He's just one of millions of fed-up people.
So, that's one data point among many other across a vast country, but I found it personally alarming enough to stop being amused by the Trump circus and hope for its speedy implosion. YMMV.
Open thread!