Many of you heard this story over the weekend:
Eleven African American women were kicked off a Napa Valley Wine Train on Saturday for allegedly laughing and talking too loudly in an incident that has sparked widespread anger and the hashtag #LaughingWhileBlack.

The women, one of whom was 83, were members of a book club, the Sisters on the Reading Edge, and were taking part in their annual trip through wine country, wearing matching shirts, drinking wine and enjoying appetizers.

The Napa Valley Wine Train is a restaurant on board a train that travels for 25 miles through the heart of Napa Valley while passengers eat and drink from an award-winning wine list.

The staff on board received several noise complaints from other parties on the train, according to a Napa Valley Wine Train spokesman, Sam Singer. They asked the group to quieten down three times and, following the third attempt, they gave the group the choice of "reducing their noise level or departing the train", Singer said. One woman on the train told the group that it was "not a bar", according to one member of the group, Lisa Renee Johnson's Facebook page.

"The train is set up to be with your friends, to drink wine and have a good time," Johnson told the San Francisco Chronicle. "We were thinking, 'Who are we offending?'"

A Yelp review by a woman giving her name as Danielle S, published on Sunday, said: "I watched in disbelief as staff harassed a group of people who were merely drinking wine and laughing. I'd like to think it wasn't a racially motivated act, but given the fact that other, non-black guests were behaving in the same way and not removed, I can only conclude that it was discrimination."

Once the train reached the St Helena stop, the group was escorted off. They "paraded us through six cars and none of us are even drunk", Johnson wrote on Facebook.
The outrage was immediate, spurring a well-deserved social media shitstorm for the company. #LAUGHINGWHILEBLACK trended on twitter, Yelp reviews were brutal, and their facebook page was, well, a trainwreck: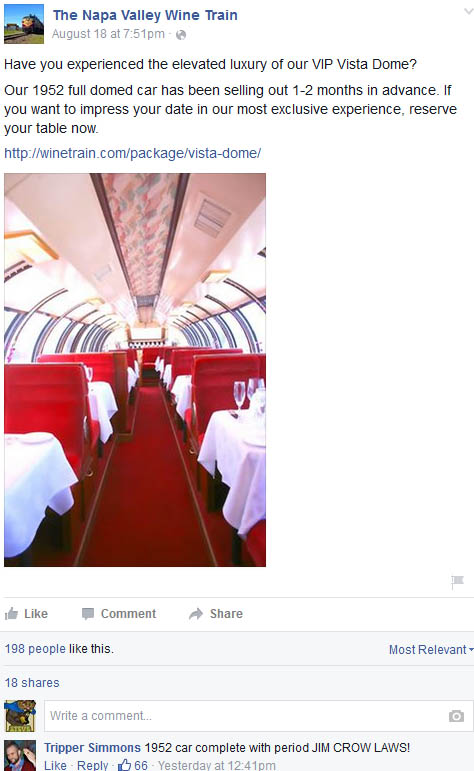 Fortunately, the Wine Train CEO is not a moron, and immediately dealt with this issue:
"The Napa Valley Wine Train was 100 percent wrong in its handling of this issue," said wine train chief executive officer Anthony "Tony" Giaccio. "We accept full responsibility for our failures and for the chain of events that led to this regrettable treatment of our guests."

***

Giaccio wrote an apology letter to the club saying: "I want to apologize for your experience on the Napa Valley Wine Train on Saturday, Aug. 22. We accept full responsibility for our failures and the entire chain of unfortunate events you experienced."

The letter to the group continued:

"Clearly, we knew in advance when we booked your party that you would be loud, fun-loving and boisterous—because you told us during the booking process that you wanted a place where your Club could enjoy each other's company. Somehow that vital information never made it to the appropriate channels and we failed to seat your group where you could enjoy yourself properly and alert our train's staff that they should expect a particularly vibrant group.

"We were insensitive when we asked you to depart our train by marching you down the aisle past all the other passengers. While that was the safest route for disembarking, it showed a lack of sensitivity on our part that I did not fully conceive of until you explained the humiliation of the experience and how it impacted you and your fellow Book Club members.

"We also erred by placing an inaccurate post on our Facebook site that was not reflective of what actually occurred. In the haste to respond to criticism and news inquires, we made a bad situation worse by rushing to answer questions on social media. We quickly removed the inaccurate post, but the harm was done by our erroneous post.

"In summary, we were acutely insensitive to you and the members of the Book Club. Please accept my apologies for our many mistakes and failures. We pride ourselves on our hospitality and our desire to please our guests on the Napa Valley Wine Train. In this instance, we failed in every measure of the meaning of good service, respect and hospitality.

"I appreciate your recommendation that our staff, which I believe to be among the best, could use additional cultural diversity and sensitivity training. I pledge to make sure that occurs and I plan to participate myself.

"As I offered in my conversation with you today, please accept my personal apologies for your experience and the experience of the Book Club members. I would like to invite you and other members to return plus 39 other guests (you can fill an entire car of 50) as my personal guests in a reserved car where you can enjoy yourselves as loudly as you desire.

"I want to conclude again by offering my apologies for your terrible experience."
Businesspeople- that is how it is done. It would be nice if this shit didn't keep happening, but this is the best possible outcome and handling of the situation.
For the record- were I still a drinker, these are PRECISELY the kind of people I would want in my car on a boring ass ride through NAPA valley. When I was on the bottle and traveling, I would always gravitate to the people having the most fun. I bet they would be a hoot.