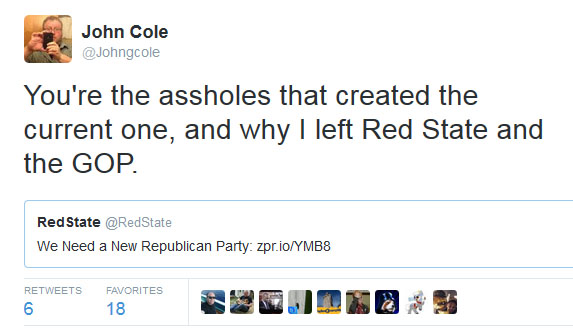 I know for many of you, there has never been a time that the Republican party was not fully evil. With my current political feelings, I can look back and understand your perspective. At the same time, I still think that the Republican party has become demonstrably worse in the past decade to the point that I don't even recognize them. People who were too fringe to be the fringe are now elected Senators, and the whole thing party is just a freak show.
The same can be said of the conservative media. Even Red State used to be better than it is now. I remember writing things like this there, and while a lot of people would disagree, it was still able to be published. Compare that to today, where the leading conservative media sites are really just insane. Including Red State.
BTW- when you read that Red State piece, keep in mind this is before we all knew that the Addison/Cheney/Kristol/Wolfowitz/Yoo neocon sociopathic junta had actually introduced systemic torture. Such innocent times for yours truly.