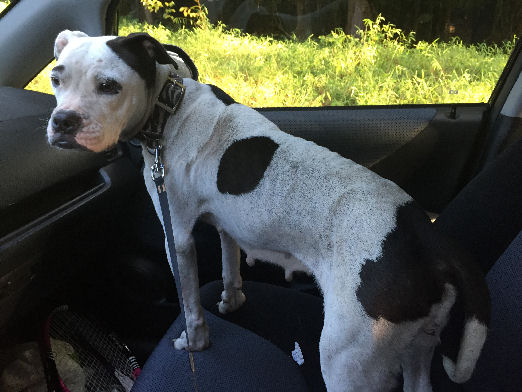 From commentor Summer:
Today, I came home and my neighbors' kids were holding this girl with a piece of string. They said another neighbor had turned her loose when her puppies died (maybe a couple of weeks ago), and they were really worried that she was going to die. She seemed very submissive, so I brought her in, she only glanced at my cat and let him sniff her legs while she ate. Then we went on a walk along the river, this girl and my two older dogs.

All was fabulous and then my collie mix Layla came up right after I'd been eating something and little miss bit her. Deep puncture on the face. So I can't keep her, and am actually afraid to have her in the house with a cat.

I am paying to board her right now in addition to shots (and antibiotics and rabies booster for my dog) and am really hoping that someone who doesn't have pets might be interested. I'll take her to people in the Carolinas/Virginia area.

She is great with me. Very submissive, sweet, bonded in about twelve hours. Calm. She let me grab food from her, bathe her, and order her around. She's a really good girl and would make a great pet. The kids knew her; she'd always been good with them.

Would you post and see if anyone in the area of Durham, NC, would be interested in a pit bull that might be a little bit problematic? It's hard to tell what she'd really be like when she's not malnourished, flea-ridden, with raw skin and who knows what else. I will get her shots and spay. She has been awesome with me. I really like her. I think I taught her to sit.

I really don't want to let the kids down either. They got super happy to think they'd saved her.
If you have any leads — even to a rescue group that might be able to give this poor girl a chance — leave a comment. Or send me an email (click on my name in the right-hand column, or annelaurie at verizon dot net) and I'll forward your message to Summer.
Anybody remember the name of Cole's sister's group? Most rescue groups are networked, they might have contacts in the NC area…