Just wanted to pop in and thank you all for donating to the fall fundraiser, and I have asked Mistermix, who knows something about coding, is going to be in contact with the designer and they are going to hammer out the details. We're going to try to go for all the bells and whistles while keeping the integrity of the site the same. A brief moment so you can all chuckle about the idea of this site having any integrity. But you know what I mean. If you still want to donate, here's the info:
If you want to donate via snail mail, the email addy is:

And, as promised, another picture of everyone's favorite recovering patient: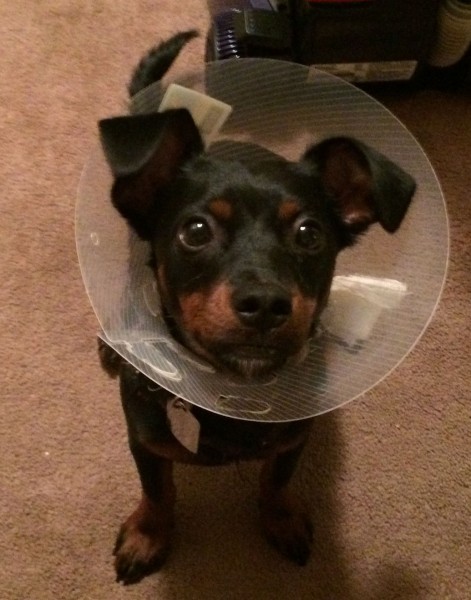 Thurston clearly does not understand the "shame" portion of cone of shame, because he honestly looks happier than a pig in shit. I love the little soul patch on his underbite- so cute in person when he holds still long enough to let you see it.
If you look closely, you will notice one of the el cheapo upright vacuum cleaners and two handheld vacuums positioned strategically around the house to quickly clean up whatever the hell we have shredded. It's to the point now that we don't even put them away, we just leave the standing in the middle of the damned room because we know we are going to need it in a few hours.
They tell me they grow out of this stage, but I am not sure. Lily and Rosie came broken in.