Here's the patient, sans Cone of Shame: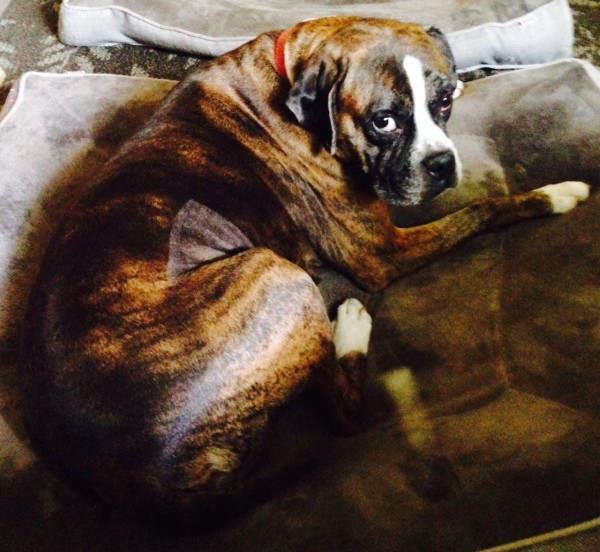 It looks kinda like her hindquarter was shaved in this badly exposed photo, but that's just sunlight from the window. If you look above her, well, knee, I guess, you can see part of a shaved square. Her position spares you the sight of her incision, which is good because it's gross.
The best part of this bad photo is the amorphous white thing below her hind foot; that's the tip of her tail moving so fast it registers as a blur. Wag = Good.
The New Yorker published a piece today entitled "Why You Hate Google's New Logo," and it speaks for me. An excerpt:
The new logo retains the rainbow of colors but sheds the grownup curlicues: it now evokes children's refrigerator magnets, McDonald's French fries, Comic Sans. Google took something we trusted and filed off its dignity.
So true. Google is my homepage (and my work calendar, etc.), and I wince every time I open the browser. I opened the Google app on my phone earlier, and for a brief second, the reassuring old logo appeared, and I thought it had all been a bad dream. But then the app auto-updated and presented the clown college version. Why, Google? Why?
Anyway, long weekend. Got any plans? We're keeping an eye on the dog, mostly, and football tomorrow, of course. I have a family cookout to attend on Monday and must find a way to adapt my baked beans recipe for vegetarians. Any suggestions gratefully appreciated.
Open thread!