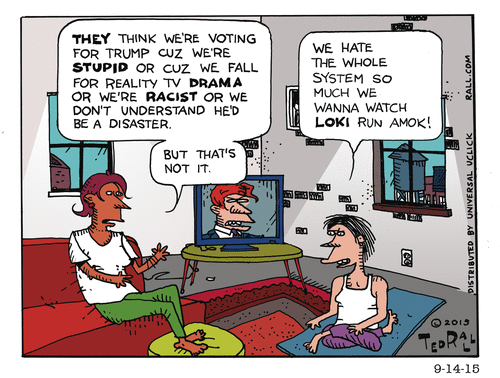 Kevin Trahan, at SBNation — "I tailgated with drunk Donald Trump fans at Iowa-Iowa State so you don't have to":
… "Tell that scrub to get to the side. We've got Trump coming!" said one guy when Wisconsin governor Scott Walker appeared. Another yelled at the balding candidate about Rogaine. One woman, a self-described Republican, had no idea who Walker was, and the only semi-excited person was a drunk man who told his daughter to shake "Mike Walker's" hand.

If there's anyone who had to really hate this tailgate (booze wasn't provided by the GOP, of course, so it's only a tailgate because of its surroundings), it was the campaign workers. They're unpaid, mostly college students, and live in constant fear that whatever they say will ruin their candidate's campaign.

Like the two guys in Jeb! shirts. A curious Hawkeye fan made the mistake of asking about Bush, and after listening for a good five minutes, the fan thought he'd figured it out.

"So he's the anti-Trump," he said.

"NOOOOOOOOOO," the campaigners screamed in horror…

The drunk crowd showed up later, but at the beginning, there was actually a number of Trump supporters milling about — "all dudes," much to one reporter's chagrin — and defending their renegade leader. Tyler Steiner and Jake Rudeen, both ISU students, wore blue Trump shirts.

"I'm a big fan of his one-liners," Steiner said…

The mob was more akin to a group of fans ready to rush the field after a big win than it was to any political setting. Drunk fans stumbled over each other, moving around in hope of getting in front of the one small audio speaker. I asked one veteran political reporter from Washington, DC., whether she had ever seen a rally with supporters this drunk.

"Not this early," she said….
Trump is remarkably petty & touchy. If other GOP candidates weren't afraid of him, they could easily unnerve him.

— Jeet Heer (@HeerJeet) September 14, 2015
Antithesis — Adam Gopnik, in the New Yorker, on "Trump and Obama: A Night to Remember":
Once, and only once, in 2011, have I attended the annual White House Correspondents' Association dinner in Washington, D.C…. Not only, as we did not know then, was President Obama in the midst of the operation that would lead shortly to Osama bin Laden's killing; it was also the night when, despite that preoccupation, the President took apart Donald Trump, plastic piece by orange part, and then refused to put him back together again…

What was really memorable about the event, though, was Trump's response. Seated a few tables away from us magazine scribes, Trump's humiliation was as absolute, and as visible, as any I have ever seen: his head set in place, like a man in a pillory, he barely moved or altered his expression as wave after wave of laughter struck him. There was not a trace of feigning good humor about him, not an ounce of the normal politician's, or American regular guy's "Hey, good one on me!" attitude—that thick-skinned cheerfulness that almost all American public people learn, however painfully, to cultivate. No head bobbing or hand-clapping or chin-shaking or sheepish grinning—he sat perfectly still, chin tight, in locked, unmovable rage. If he had not just embarked on so ugly an exercise in pure racism, one might almost have felt sorry for him…

… The micro-history of that night yet to be written might be devoted largely to the double life of Barack Obama as cool comedian and quiet commander—or it might be devoted to the moment when new life was fed into an old ideology, when Trump's ambitions suddenly turned over to the potent politics of shame and vengeance. His even partial triumph in the primary still seems unlikely—but stranger jokes have been played on American philosophers over the centuries.
***********
Apart from meditating upon the weirder excrescences of the Republican Party, what's on the agenda for the day?