Earlier I went out to retrieve my mail, and when I was passing through the carport, I noticed what looked like a GIANT SNAKE TAIL dangling down from a loose spot in the soffit that lines the carport roof. On the walk to the mailbox, I half convinced myself I was just seeing things, but nope, there it was when I came back by, so I got a picture: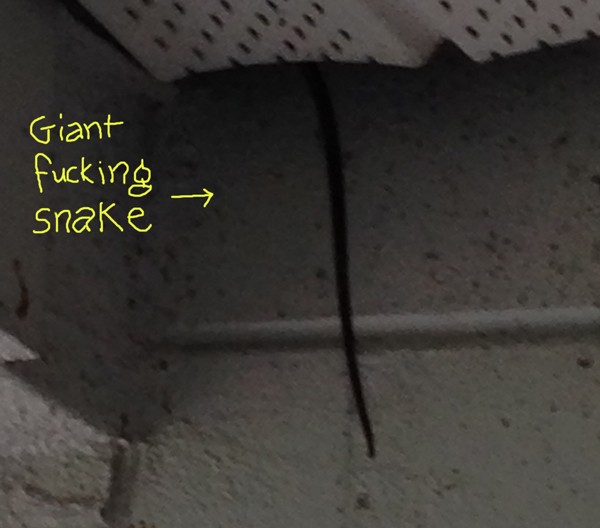 The soffit was kind of bulging downward a little where the GIANT SNAKE BODY must be nestled. While I watched in horror, it slithered toward the center, and I saw its awful, scaly tail disappear. I ran inside and slammed and locked the door. But I know it's out there.
I sent the picture to my husband and implored him to come home right away to rip down the soffit and remove the beast. And to bring lots of bourbon! But he says I'm overreacting and that it's probably just a "harmless" little black snake that has "beneficial" properties.
Just how harmless will it be when it plops down on my head next time I leave the house and causes me to slam into the side of my vehicle as I attempt to run away in fright, resulting in extensive body work for both me and the car? Will that be beneficial, considering that we're covered for restorative plastic surgery only?
Goddamn it. I'm tired of these motherfucking snakes in my motherfucking carport. Open thread.