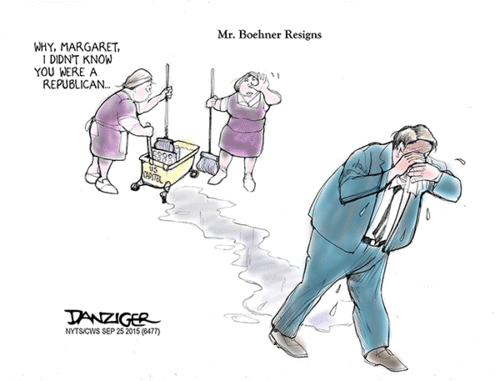 He's not gonna go quietly, per the Washington Post last night:
Outgoing House Speaker John A. Boehner, in his first one-on-one interview since announcing his resignation last week, compared conservative hard-liners in his party to biblical "false prophets" who promise more than they can deliver.

Boehner announced Friday that he would step down Oct. 30 after nearly five years as speaker amid constant pressure from his party's right flank. Asked Sunday by host John Dickerson on a live broadcast of CBS's "Face the Nation" whether those hard-liners are "unrealistic about what can be done in government," Boehner exploded.

"Absolutely, they're unrealistic!" he said. "But, you know, the Bible says beware of false prophets, and there are people out there spreading noise about how much can get done."…

Dickerson followed up by asking whether Sen. Ted Cruz (R-Tex.), the leading proponent of the 2013 shutdown, was a "false prophet."

"Listen, you can pick a lot of names out; I'll let you choose 'em," Boehner said as he sipped from a coffee mug. He added: "I refer you to my remark at a fundraiser I made in August in Steamboat Springs, Colo." — a reference to a report, published in the Daily Caller, that he had called Cruz a "jackass" behind closed doors…

Boehner addressed the remaining five weeks of his speakership, in which he pledged to "get as much finished as possible." Pressing matters include striking a deal with President Obama to keep the government open through the coming fiscal year, raising the federal borrowing limit, passing a long-term transportation bill and extending popular tax breaks.

"I don't want to leave my successor a dirty barn," Boehner said. "So I want to clean the barn up a little bit before the next person gets here."…
***********
Apart from enjoying the ongoing confusion amongst our enemies, what's on the agenda for the evening?