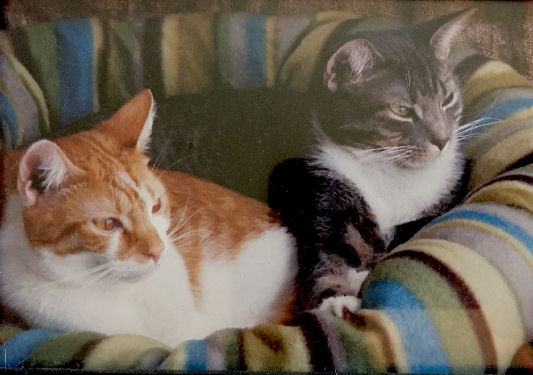 From commentor Ann Marie:
The two lovely feline ladies in the attached picture are Lucy (red tabby) and Luna (charcoal). The mother of a co-worker of mine recently died and her two cats now need a home. According to my co-worker, Jennifer, they are very friendly and took good care of her mother during her illness. Jennifer can't keep them and I can't take them (my condo has a two-pet limit and I already have my two).

They are both 6 years old, litterbox trained and up-to-date with their immunizations. They are declawed in front.

They are good with Jennifer's children and probably okay with dogs but have met only one small dog. Ideally, they should stay together.
Anybody is interested in these two, or knows someone who might be, contact me (click on my name in the right column, or annelaurie at verizon dot net) and I'll put you in touch with Ann Marie.