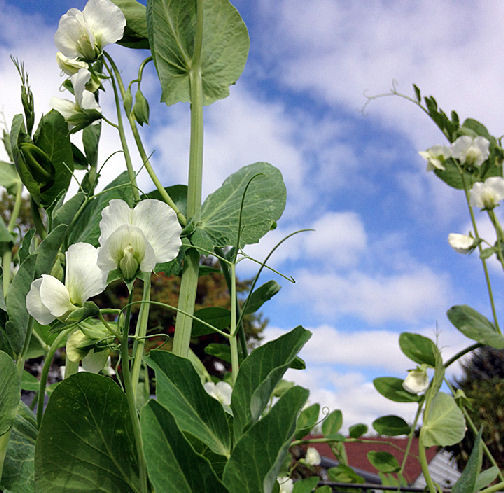 From faithful garden correspondent Marvel:
Early Fall in the Wilammette Valley has been mild and wonderful. Clear, sunny skies, cool breezes, sparkling sun. We've eaten the last of our vine-ripened tomatoes, juiced & 'sauced all our apples and dug up all the potatoes.

Most recently, we've been filling up on a robust bunch of veggies from the Fall garden, plucking side-shoots and mature leaves from the broccoli and the latest generation of lettuce.



The cabbages are 'bout ready to split so we've been chopping them up and trying new saute recipes. Next week I'll start harvesting the purple cabbage — I've got a sweet 'n sour soup in mind. Lots of it.

The orange caulifower are just starting to peek out of their protective jungle and I hope to start plucking a few within the next couple of weeks. We like to chop 'em up, toss them with some olive oil and salt & pepper, then roast (450) the living daylights out of them 'til they're all crispy and brown around the edges.

The greenhouse peppers (mostly sweet, a few hot) have been appearing at a slow but steady pace for a few months now. We've dried some hot ones and frozen the sweeties and hope to see several more mature before everything slows way down for the Winter.

Finally, a late-season crop of shelling peas [top photo] is starting to look promising. We lost the lot of 'em during a brief and nasty hot spell at the beginning of Summer. I've got the butter and mint lined up and ready for the first few pods to plump up — we're READY!
***********
What's going on in your gardens this week?