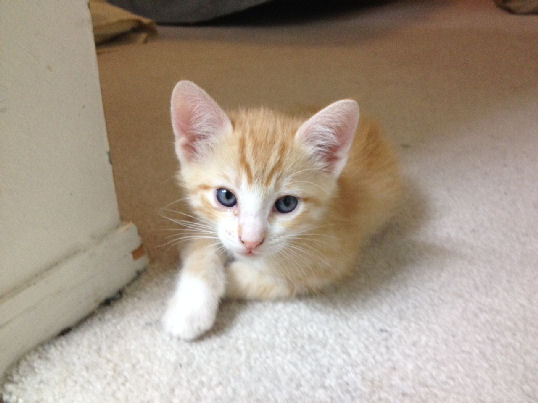 Happy news from Philadephia cat rescuer Ann Marie:
Good news — Lucy and Luna have found a home. A woman at my office was going to go to the SPCA and get a kitten but decided to take these two mature ladies instead.
Anybody know how to convert video iMove (Apple) clips to a (pc) .flv file that WordPress will accept? Until that can be untangled, here's the latest update from kitten wrangler Marc:
The kittens continue to develop by leaps and bounds (literally). Their territory now ranges from the master bedroom (where they were born and corralled) down to the computer room at the other end of the condo, with the kitchen and dining room on the route in between. They've all discovered The Mirror, and watching each interact with the kitten on the other side was something else. Their physical development and increased coordination has given them newfound wings as to where they can explore.

The two cat trees in the bedroom are now regular places to romp, which they rapidly climb up and down (and occasionally hide in when I'm doing a kitten count). The bed, which used to be a tough climb for them is similarly open territory to use equally as resting place, playground, or stalking position, depending on the mood of the kittens. They still sleep under the bed, but will kitten pile elsewhere (especially after feeding at Mom's Diner), and I've woken up to a kitten or three snuggled next to me.

I've started feeding them – canned wet kitten food was placed on separate plates, so as to not let any single kitten crowd out the others, plus to try and feed them about the same amount. Four out of the five kittens chowed down on the first meal like there was no tomorrow. Number five just sniffed it, and wandered away. Needless to say the others took care of that plate after finishing their own. I've put down kitten kibble, and they all seem to be taking to that fine, while kitten five was found this morning having First Breakfasts out of it, and finishing off what had been in there overnight. Miri should be starting to wean them soon, since last Friday was their 7th week birthday anniversary.

They've all observed Miri use her box, and seem very interested in what she is doing, but I'm not sure if everyone is getting the same message. Litter box skills are… varied. I'm not sure which two, but two are definitely using their litter box for #1 & #2. One kitten is probably using Miri's box, but due to Miri's "Digging to China" routine, I can't really tell, and I'm no CSI: Litter Box expert. I can't tell for sure how far along the other two are, but when I see any kitten about to use a puppy pad, I rush it into the litter box and it does its business there. I have a couple of puppy pads (99¢ store pack of five) just outside the kittens litter box, and have had to change them after work, but at least the white carpet outside of it is still white. I hope by the end of the week everyone will have graduated litter box school, fingers crossed!
***********
What's on the agenda, as we start another week?