In yesterday's thread that PPOs are merely a plan design and not an indicator of quality nor shittiness, Dr. Bloor restates a very important point about high deductible plans in response to another comment:
The High-Deductible Health Plans scare me. Are the prescription rates for these plans pre-negotiated, or do you eat the cost of prescriptions at retail rates until you hit the deductible?

You should never take on more of a deductible than you can assume you'll spend in the course of a year. Folks who either opt for big deductibles or have them foisted on them by their employers for the sake of saving a few bucks on their monthly premium are aching to be victims of the penny-wise-pound-foolish approach to insuring their families.
High deductible health plans (HDHPs) are "consumer-driven" health insurance. The theory of change is that the consumer (not patient, and not person but consumer) will be able to effectively assess their healthcare needs and since they are paying the first several thousand dollars in expenses, they will not use healthcare that is low value to them. The IRS defines a HDHP as having a deductible of at least $1,300 for an individual in 2016.   A HDHP at $1,300 deductible and no other cost sharing has an actuarial value of 77% or 78% at a rough back of the envelope guess.
HDHPs are often tied to Health Savings Accounts (HSA) where people can put pre-tax money into an account to cover the deductible.  The money rolls-over year after year (unlike a Flexible Spending Account) and it can be placed on Red at the casino or invested.
I am not a big fan of high deductible health care as the evidence is good that they reduce utilization but the utilization reduction is not targeted at bad or low value care, it is not targeted at all.  Good care is excluded due to cost.  Recent evidence has shown that there is not a cost cascade two or three years out after employer sponsored insurance switches to HDHPs from low deductible health plans, but that study is fairly limited to a healthy population (employed individuals).
This is a problem with the ACA.  Catastrophic, Bronze and non-cost sharing Silver plans are low actuarial value plans when taken in the context of defining a HDHP.  Most of these plans have HSAs attached.  However I have a question about whether or not HSAs can be attached to some Silver plans?  Do no deductible Silvers qualify for HSAs?
As I noted in April, some insurers are manipulating their products to get a good search score on the Exchanges:
one insurer has offered no deductible Silver policies without any cost sharing assistance. How is that done? These plans are structured with no first dollar obligation. However every service has a very high co-pay that is at or above typical pricing for the service. Every PCP visit has a $125 co-pay, every specialist visit has a $200 co-pay, and a hospitalization has a $3,500 co-pay. The plan design is structured to make the co-pays act like a deductible without calling them deductibles. It is a clever way to game the search logic in order to artificially bump these plans' attractiveness.
Is that plan eligible to have a HSA attached to it?  The deductible is zero, but maximum out of pocket was $6,200.
Another example is in Idaho: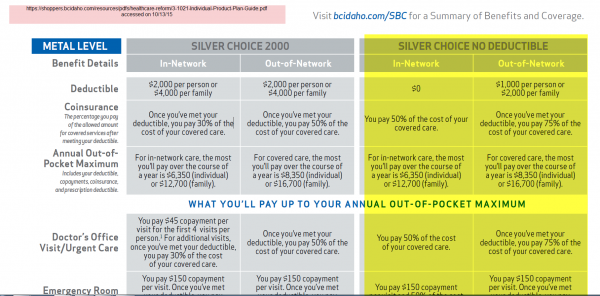 There is no deductible, but the insurer only pays 50% for the first $12,700 of contracted charges and you pay the rest.  This sure as hell acts as a deductible in making you want to stop before going to the doctor's.  There is a significant first dollar exposure that is not absolute (that is the definition of deductible) but it is still significant.
The Silver Choice 2,000 should be HSA qualified but on a naive reading of the law, the Silver Choice No Deductible is not HSA qualified.  It is shittier insurance and on a tax basis, it is probably a more expensive insurance product for someone who uses up most of their out of pocket limit.
What are the fixes?  The realistic fix in the short term is to change the qualification requirements of an HSA qualified plan from the size of deductible to the actuarial value of the plan.  If the goal is to encourage more consumerism (not a great goal in my mind), then it should be benefit configuration agnostic.  That goal is theoretically achievable in this political environment as it is more tax cuts although those tax cuts are not focused at the top 1% of the country so it would be a slog.
The longer term fix would be to move people from low actuarial value insurance to higher actuarial value insurance so benefit configuration shenanigans can occur at the margin but even as they happen, they are nearly irrelevant.