Which is the more competent chair? I think it's the one on the left: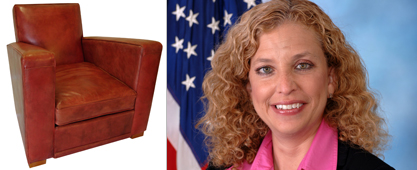 The NYT has the latest on the ongoing kerfluffle between DNC Chair Debbie Wasserman Schultz and other party members over the number of debates:
R.T. Rybak, the former mayor of Minneapolis and a vice chairman of the Democratic National Committee, on Thursday accused the party's leader, Representative Debbie Wasserman Schultz, of making "flat-out not true" statements about another top party officer, questioned her political skills and said he had "serious questions" about her suitability for the job.

The broadside from Mr. Rybak, which came in an interview late Thursday afternoon, followed weeks of internal party dissension over the number and timing of the presidential debates it has scheduled, capped by an acrimonious public dispute over whether Ms. Wasserman Schultz had punitively barred a Democratic vice chairwoman, Tulsi Gabbard, from the first debate, held on Tuesday in Las Vegas.

The comments from Mr. Rybak, who was interested in replacing Ms. Wasserman Schultz in 2013 and who was the favored choice of some of President Obama's aides, were notable in part because he is not known as a public complainer. But by the evening's end, most of the other party officers issued statements strongly supporting Ms. Wasserman Schultz and calling for an end to the public rancor.
A lot of Democrats seem to dislike DWS and blame her for the party's lousy showing in midterm elections. I don't — I blame the idiot voters who can't get excited about politics unless there's the grand reality show drama of a presidential election to make them all tingly. It's not DWS's fault that these short-sighted mopes stay home and allow their city councils, school boards and state legislatures to be taken over by local Sarah Palin knock-offs.
That said, DWS is annoyingly chummy with the wingnut delegation from South Florida — to the point where it's reasonable to wonder if she'd like to see them replaced with Democrats — and hasn't exactly distinguished herself in her current gig. At the very least, a competent chair should be able to keep a lid on infighting such as the type the NYT is covering.
Regarding the number of debates, what do you think? DWS is accused of limiting it to six to stack the deck for HRC, and maybe that's true; I honestly don't know. But do we really need a gazillion debates? If no one can pick Martin O'Malley out of a line-up after #6, I'm not sure further debates would help.
Absent an even more public and open revolt, it seems unlikely the party will get rid of DWS just as an important election is heating up. But maybe President Hillary or President Bernie can appoint her as HUD Secretary or something so she'll go away and someone more effective can take on the role. Not sure who that would be, but the chair pictured at left above might be a good candidate.