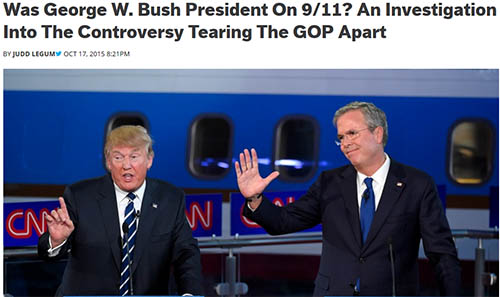 On Friday, Donald Trump generated substantial controversy when he asserted that George W. Bush was president at the time of the 9/11 attacks.

"When you talk about George Bush, I mean, say what you want, the World Trade Center came down during his time," Trump said. "He was president, O.K.?"

Jeb Bush immediately pushed back, calling Trump's comments "pathetic" and insisting "my brother kept us safe."

The media jumped on to the burgeoning controversy. According to The New York Times the idea that Bush was president on 9/11 and failed to stop the attack is a "break from the GOP."

Was George W. Bush president on September 11, 2001? It's time to settle this once and for all.

It's true that, in the presidential election held on November 7, 2000, George W. Bush received fewer votes than Al Gore.

But according to the Associated Press, this is a photo of George W. Bush being sworn in as president on January 20, 2001.
Well played.