Thank you @pmharper it was great to see you tonight & thanks to the thousands of people who came #elxn42 #elxn2015 pic.twitter.com/tqIxs0inxD

— Rob Ford (@TorontoRobFord) October 18, 2015

Tomorrow is election day in Canada, and Stephen Harper is obviously desperate to get Conservatives to the polls in the key Greater Toronto Area. According to the Canadian version of 538, Justin Trudeau and the liberals have a solid lead but probably won't have the votes to form a government on their own. There's only been one coalition government in Canada's history, and Trudeau has said repeatedly that he won't entertain a coalition with the NDP as long as Mulcair is their leader, so things could get interesting.
Speaking of Mulcair and the NDP, who looked much stronger earlier this year, apparently Mulcair's inability to come out strongly  poor communcation of his opposition to Harper's desire to ban the niqab (face covering) in Quebec is one small factor in the race.  In contrast, Trudeau essentially called Harper a racist over the issue.
Perhaps our Canadian readers would like to weigh in on why the NDP is doing so poorly. Is it Mulcaire's comments, the view that the Liberals are the best bet to beat Harper, or is Canada embracing Trudeau the way this woman did at a pride parade in BC earlier this year?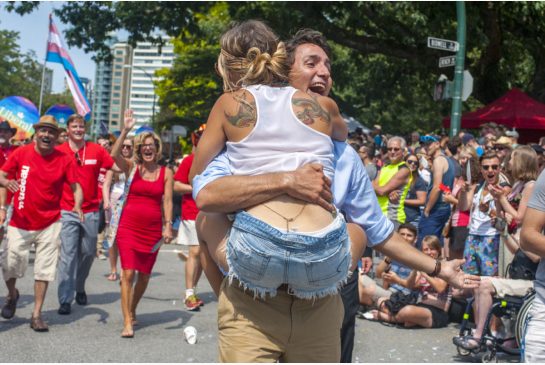 For those of you who don't give a shit about Canadian politics, I hope you can at least enjoy the exercise of wondering who will end up having to tweet a picture of them kissing Donald Trump's ass the weekend before our election next year.