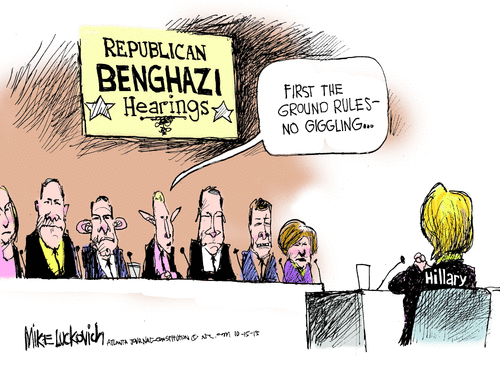 Per the Washington Post, Trey Gowdey is not gonna give up easily, just because his prize committee has become almost as big a joke as Chris Christie's presidential ambitions, and for approximately the same reasons:
… Rep. Trey Gowdy (R-S.C.) said Sunday on CBS's "Face the Nation" that he has told Republican colleagues to "shut up talking about things that you don't know anything about. And unless you're on the committee, you have no idea what we have done, why we have done it and what new facts we have found."

Clinton is slated to testify before the committee on Thursday. She called the panel "a partisan arm of the Republican National Committee" and said she did not know what to expect from Thursday's hearing.

"I already testified about Benghazi. I testified to the best of my ability before the Senate and the House. I don't know that I have very much to add," Clinton said on CNN's "State of the Union" on Sunday. "I will do my best to answer their questions, but I don't really know what their objective is right now."…

House Majority Leader Kevin McCarthy (R-Calif.) suggested in a recent Fox News interview that the committee was formed to drive down Clinton's poll numbers. Rep. Richard Hanna (R-N.Y.) and Bradley F. Podliska, a former Republican staffer on the committee, also called the investigation politically motivated.

Gowdy said McCarthy, Hanna and Podliska are "three people who don't have any idea what they're talking about."…

Rep. Elijah Cummings (Md.), the top Democrat on the committee, remained skeptical of Gowdy's comments.

"It's interesting that after 17 months, $4.7 million and counting of taxpayer money, that Chairman Gowdy is now saying he has another two dozen witnesses to interview. It's very interesting," Cummings said on "Face the Nation." "I do believe that what he has tried to do — I listened to him very carefully — he's now trying to shift back to where we should have been all along. That is looking at the Benghazi incident. And it's clear to me."

On NBC's "Meet the Press," Rep. Adam Schiff (D-Calif.), a committee member, accused Republicans on the panel of leaking information to the media to embarrass Clinton. Cummings addressed the issue in a memo released Sunday, saying the committee has attempted to attack Clinton repeatedly over her use of a private e-mail server while at the State Department. Gowdy disputed the allegation in a memo and said he cares about Clinton's e-mails "only to the extent that they relate to Libya and Benghazi."…
Dueling memos! Dude, you figured beating up on That Woman Everyone Mistrusts would make your bones as an effective thug for your quasi-criminal organization. But even if your associates had managed to keep their big yaps shut, wasting all that time and money just to inconvenience a great many innocent people was never gonna win you any popularity contests. And you've done a great job of convincing everyone who wasn't paying much attention before your cronies blew the gaff that your "serious, hard-charging, effective prosecutor" rep was self-promotion by a cheap bully with a badge.
ETA:
Gowdy fabricated redactions on to Clinton's email to make it look like she'd outed a spy. http://t.co/zxY5v90ya2 pic.twitter.com/QV6AAHhb26

— Brian Beutler (@brianbeutler) October 18, 2015